A consideration of the ability of Port Chalmers to handle the expected increase in forest products exports from the Otago/Southland region.
(1984)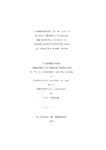 View/Open
Type of Content
Theses / Dissertations
Thesis Discipline
Forestry
Degree Name
Bachelor of Forestry Science
Publisher
University of Canterbury
Language
English
Collections
Abstract
The Southland/Otago region is expected to significantly increase its exports of Forest products over the next three decades. It is envisaged that at least 90% of this increase will flow through Port Chalmers. The effects of this increased throughput on the Port has been evaluated using a number of different factors, i.e. loading rates, number of berths and vessel draught in Conjunction with the branch of operations research known as queuing theory. This combination has been used to determine the cost of delays to shipping as a result of Port congestion, i.e. waiting time and costs.
The results were that a considerable strain will be placed on the existing berthag by 1991 and that to alleviate serious congestion an expansion of port facilities must be undertaken.
To effectively cope with the projected throughput it was concluded that by 2001 a further three berths need to be provided and that by 1996 the Port should be introducing a double shift loading operation for forest products.
It appeared that harbour depth had very little importance if a high loading rate was used, the implication is that the loading rate governs Port throughput. There is unfortunately a very high labour cost which tends to diminish the savings in waiting costs made by having a double shift loading operation.
Related items
Showing items related by title, author, creator and subject.
Manley B

;

Morgenroth J

;

Visser R

(

2017

)

According to the National Exotic Forest Description (NEFD), the small-scale forest estate accounts for 520,000 ha of the New Zealand plantation estate of 1,705,000 ha. It is becoming increasingly important for wood ...

Burge, Olivia Rata

(

University of Canterbury

,

2015

)

In New Zealand, large-scale disturbance in the form of anthropogenic burning and clearance for agriculture began with Maori settlement in 1280 AD and intensified with European settlement after 1840. Successional vegetation ...

Yahia A

;

Benyo B

;

Chase, Geoff

(

Elsevier BV

,

2020

)

Intensive care patients often experience hyperglycemia, insulin resistance (low insulin sensitivity), and high endogenous glucose production due to their critical situation. STAR is a model-based glycemic control protocol ...