Analysis of traffic distribution in cellular networks
(1999)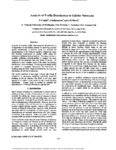 View/Open
Type of Content
Conference Contributions - Published
Publisher
University of Canterbury. Electrical and Computer Engineering.
Collections
Authors
Smith, P.,
Sathyendran, A.,
Murch, A.R.
show all
Abstract
Accurate air interface traffic forecasting and dimensioning is of importance in any cellular network for achieving cost and quality requirements. A previous paper [l] analysed the appropriateness of the Erlang B model to estimate the mean call blocking experienced by cellular traffic using the traditional confidence interval method. This paper presents a modified confidence interval method to compare the mean blocking of the measured data and Erlang B results. In addition to a more complete study of the mean, the blocking distribution is also considered. The Erlang Loss Model (ELM) is studied to completely characterise the distribution of blocking using the ELM. Exact expressions for the busy time distribution are derived for this study. The results presented in this paper indicate that Erlang B formula is an appropriate model for calculating mean call blocking on the air interface. The ELM on the other hand appears to be rather a poor model for the overall blocking distribution. Further study is needed to establish the appropriateness of Erlang B formula as a general tool.
Citation
Smith, P., Sathyendran, A., Murch, A.R. (1999) Analysis of traffic distribution in cellular networks. Houston, TX, USA: 49th IEEE Vehicular Technology Conference, 1999. 49, 3, 2075-2079.
This citation is automatically generated and may be unreliable. Use as a guide only.
Rights
©1999 IEEE. Personal use of this material is permitted. However, permission to reprint/republish this material for advertising or promotional purposes or for creating new collective works for resale or redistribution to servers or lists, or to reuse any copyrighted component of this work in other works must be obtained from the IEEE.