Australasian law and Canadian statutes in the Nineteenth Century: a study of the movement of colonial legislation between jurisdictions
(2000)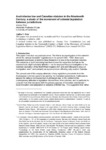 Type of Content
Conference Contributions - Other
Publisher
University of Canterbury. School of Law.
Collections
Abstract
This paper considers two principal areas. The first is an investigation of the extent to which the various Canadian legislatures in the period 1850 - 1900 drew upon legislation previously enacted in New Zealand or in one of the Australian colonies. The existence of such borrowing has been known for some time but has so far received only slight scholarly attention – as for example Perry's investigation of the Victorian derivation of the NorthWest Irrigation Act and John McLaren's study of immigration laws, and primarily as a phenomenon affecting only western Canada. The second part of the enquiry attempts to how legislative precedents from the Australasian colonies came to be used by the Canadian jurisdictions. It attempts to assess the data on borrowing from Australasian law in the context of the contemporary attitudes to legislation derived from other colonies, and in particular to consider how this interacted with the primary sources of Canadian colonial law – local innovation and adaptation or adoption of British law.
Citation
Finn, J. N. (2000) Australasian law and Canadian statutes in the Nineteenth Century: a study of the movement of colonial legislation between jurisdictions. Canberra, Australia: Australia and New Zealand Law and History Conference, July 2000.
This citation is automatically generated and may be unreliable. Use as a guide only.