Reverse as-built transformer design method
(2002)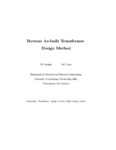 View/Open
Type of Content
Journal Article
Publisher
University of Canterbury. Electrical and Computer Engineering.
ISSN
0949-149X
Collections
Authors
Bodger, P.S.,
Liew, M.C.
show all
Abstract
A reverse approach to designing as-built transformers is presented in this paper. The physical characteristics and dimensions of the windings and core are the specifications. By manipulating the amount and type of material actually to be used in the construction of the transformer, its performance can be determined. Such an approach is essentially the opposite of the conventional transformer design method. The method is applied to two sample high voltage transformers. The measures performance of the transformers verifies the usefulness of using this reverse design approach.
Citation
Bodger, P.S., Liew, M.C. (2002) Reverse as-built transformer design method. International Journal of Electrical Engineering Education, 39(1), pp. 42-53.
This citation is automatically generated and may be unreliable. Use as a guide only.
Keywords
transformer; design; reverse; high voltage; power