The temporal window of audio-tactile integration in speech perception
(2010)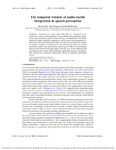 View/Open
Type of Content
Journal Article
Publisher
Acoustical Society of America (ASA)
ISSN
0001-4966
1520-8524
Language
English
Collections
Authors
Gick B
Ikegami Y
Derrick, Donald
show all
Abstract
Asynchronous cross-modal information is integrated asymmetrically in audio-visual perception. To test whether this asymmetry generalizes across modalities, auditory (aspirated "pa" and unaspirated "ba" stops) and tactile (slight, inaudible, cutaneous air puffs) signals were presented synchronously and asynchronously. Results were similar to previous AV studies: the temporal window of integration for the enhancement effect (but not the interference effect) was asymmetrical, allowing up to 200 ms of asynchrony when the puff followed the audio signal, but only up to 50 ms when the puff preceded the audio signal. These findings suggest that perceivers accommodate differences in physical transmission speed of different multimodal signals. © 2010 Acoustical Society of America.
Citation
Gick B, Ikegami Y, Derrick D (2010). The temporal window of audio-tactile integration in speech perception. Journal of the Acoustical Society of America - Express Letters. 128(5). EL342-EL346.
This citation is automatically generated and may be unreliable. Use as a guide only.
Keywords
Peripheral Nerves; Humans; Acoustic Stimulation; Physical Stimulation; Cues; Auditory Threshold; Speech Perception; Touch; Air Movements; Adult
ANZSRC Fields of Research
47 - Language, communication and culture::4704 - Linguistics
Related items
Showing items related by title, author, creator and subject.
Bicevskis K

;

Derrick, Donald

;

Gick B

(

Acoustical Society of America (ASA)

,

2016

)

© 2016 Acoustical Society of America. Audio-visual [McGurk and MacDonald (1976). Nature 264, 746-748] and audio-tactile [Gick and Derrick (2009). Nature 462(7272), 502-504] speech stimuli enhance speech perception over ...

Derrick, Donald

;

Hansmann D

;

Haws Z

;

Theys C

(

2018

)

Behavioural audio-visual research has shown enhancement1 and interference2 in speech perception, as has behavioural audio-tactile research3. However, to date, we have not encountered any experimental behavioural research ...

Derrick, Donald

;

O'Beirne, Greg A.

;

De Rybel T

;

Hay J

(

ISCA

,

2014

)

We follow up on research demonstrating that aero-tactile information can enhance or interfere with accurate auditory perception among uninformed and untrained perceivers [1, 2, 3]. We computationally extract aperiodic ...