Validating 1D numerical simulation of the free field using centrifuge tests
(2019)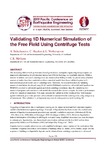 View/Open
Type of Content
Conference Contributions - Published
Collections
Authors
Balachandra A
Hayden C
Wotherspoon L
McGann C
show all
Abstract
The increasing shift towards performance based geotechnical earthquake engineering design requires an improved understanding of soil-structure interaction (SSI) for buildings on liquefiable deposits. While a number of authors have used centrifuge tests and numerical modelling to study this phenomena, a limited number of studies have been undertaken where numerical models have been validated against wellinstrumented physical model tests or centrifuge tests. Therefore, this research focuses on validating numerical simulations developed using FLAC and the PM4Sand constitutive soil model and OpenSees and PDMY02 constitutive soil model against published centrifuge experiment data. By considering two numerical programs and constitutive soil models the research also aims to compare the relative performance of the two numerical simulations. This paper presents the validation of the simulated free field response against settlement, pore water pressure and accelerations measured in the centrifuge test, using a large array of instruments. This validation is an important step towards subsequent research involving SSI.
Citation
Balachandra A, Hayden C, Wotherspoon L, McGann C (2019). Validating 1D numerical simulation of the free field using centrifuge tests. Auckland: 2019 Pacific Conference on Earthquake Engineering. 04/04/2019-06/04/2019.
This citation is automatically generated and may be unreliable. Use as a guide only.
ANZSRC Fields of Research
40 - Engineering::4005 - Civil engineering::400506 - Earthquake engineering
40 - Engineering::4005 - Civil engineering::400502 - Civil geotechnical engineering
Related items
Showing items related by title, author, creator and subject.
Meite R

;

Wotherspoon L

;

Kaklamanos J

;

McGann CR

;

Hayden C

(

Elsevier BV

,

2020

)

One-dimensional (1-D) ground response analysis (GRA) predictions are highly sensitive to the analysis methods and dynamic soil models employed, contributing to significant scatter in analysis outputs. In this paper, a ...

Stringer ME

;

Bastin S

;

McGann C

;

Cappellaro C

;

El Kortbawi M

;

McMahon R

;

Wotherspoon L

;

Green R

;

Aricheta J

;

Davis R

;

McGlynn L

;

Hargraves S

;

Van Ballegooy S

;

Cubrinovski M

;

Bradley, Brendon

;

Bellagamba X

;

Foster K

;

Lai C

;

Ashfield D

;

Baki A

;

Zekkos A

;

Lee R

;

Ntritsos N

(

2017

)

The magnitude Mw7.8 'Kaikōura' earthquake occurred shortly after midnight on 14 November 2016. This paper presents an overview of the geotechnical impacts on the South Island of New Zealand recorded during the postevent ...

McGann, C.R.

;

Bradley, Brendon

;

Cubrinovski, M.

;

Taylor, M.L.

;

Wotherspoon, L.M.

(

University of Canterbury. Civil and Natural Resources Engineering

,

2014

)