Issues Impacts and Vote choice in Taiwan Elections, 2004-2016
(2019)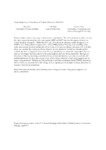 View/Open
Type of Content
Conference Contributions - Other
Collections
Abstract
Taiwan politics enters a new stage of democratic competitions. The 2016 elections redefine not only the party system featuring the two major parties DPP and KMT but also the impact of issues on voters' decision of support. While the 2014 and 2016 elections witnessed public disapproval of KMT's cross-Strait policies (Copper, 2014, 2016), DPP president Tsai Ing-wen's handling of the same issue caused her poor ratings also (W.H. Chen, 2017; also see Hickey and Niou, 2017). In this study, we examine the evolution of issue impacts on vote choices in the last two decades and reevaluate the issue voting in the Taiwan democracy. Specifically, we amass the longitudinal election data and investigate the issue effects in the party support and vote choice functions. Through an inventory of the long-standing central issues such as national identity, economic evaluations and political alienation, we track the ebb and flow of how issues influence voters' party support and in term voting decisions. Employing Taiwan Election and Democratization Study (TEDS)i data from 2004 to 2016, we scrutinize how this change of issue significance sheds light on future directions of Taiwan's electoral developments.
Citation
Ho K, Clark C, Tan A (2019). Issues Impacts and Vote choice in Taiwan Elections, 2004-2016. Chicago, Illinois, USA: 2019 Annual Meeting of the Midwest Political Science Association. 04/04/2019-07/04/2019.
This citation is automatically generated and may be unreliable. Use as a guide only.
Keywords
national identity; ethnic identity; issue voting; economic voting; party support; vote choice; uncertainty
ANZSRC Fields of Research
44 - Human society::4408 - Political science::440807 - Government and politics of Asia and the Pacific
Related items
Showing items related by title, author, creator and subject.
Tan AC

;

Clark C

;

Ho K

(

2017

)

The dramatic DPP victory suggested that fundamental change may have commenced in the nature of Taiwan politics, particularly in the partisan balance (Clark, Ho, and Tan, 2016; Hsieh, 2016; Templeman, 2016). Another area ...

Clark C

;

Tan, Alex

(

2016

)

Over the past twenty years, there have been two important trends in Taiwan's political economy whose contradictory implications provide an important explanation for the dramatic events of 201 4. The logic of each pulls ...

Ho K

;

Clark C

;

Tan, Alex

(

2017

)

Much has been made about the "coming of age" of many Taiwanese young and new voters as an important factor contributing to the gratifying electoral result of the DPP and its pan-Green allies. The Taiwanese case, then, ...