Power systems modelling in the harmonic domain.
(1992)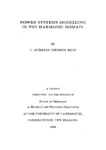 View/Open
Type of Content
Theses / Dissertations
Thesis Discipline
Electrical Engineering
Degree Name
Doctor of Philosophy
Publisher
University of Canterbury
Language
English
Collections
Abstract
Developed in the Harmonic Domain, a new and general frame of reference for Network Harmonic Analysis, a more rigorous harmonic modelling of power systems is presented in this thesis.
Linear and non-linear components of a power system are modelled in this frame of reference. The periodic behaviour of the later components are based in a linearization process about an operation point and the obtained linearised harmonic equivalents are combined with the linear part of the network.
The Harmonic Domain is based in a unified multi-phase multi-harmonic Newton­type iterative solution for the entire network, which now incorporates the detailed representation of the synchronous machine harmonic conversion and magnetic saturation, multilimb transformer core saturation, mutual coupling between windings and the harmonic contribution of the transmission network. The Harmonic Domain solutions are efficiently obtained with a new sparse hybrid technique.
The influence of non-linear effects of the synchronous machine and different transformer models is analyzed separately and then in combination with the transmission system. The case studies presented demonstrate the necessity of a detailed representation of these network components in harmonic studies.
The phenomenon of harmonic cross-coupling, which cannot be represented in conventional harmonic analyses is modelled in detail in the Harmonic Domain. The explicit representation of this phenomenon for a sufficiently wide spectrum of harmonics allows a more accurate prediction of the harmonic distortion.
The influence on the harmonic distortion of the operation point in the transformer magnetising characteristics, transformer connections detail of the magnetic equivalent circuit representation, mutual coupling between windings and synchronous machine model is analyzed.
A simple and accurate algorithm for the derivation of multi-frequency dependent equivalents in power systems is presented, as well as its potential application in the Harmonic Domain to reduce the order of the problem to be solved.
It is shown that the harmonic distortion produced by conventional power network components (without even taking into account solid state devices) can well exceed permissible harmonic levels.