Some observation on the teaching of engineering design.
(1985)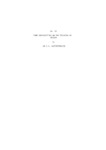 View/Open
Type of Content
Reports
Publisher
University of Canterbury
University of Canterbury, Dept. of Mechanical Engineering
Alternative Title
Some observation on the teaching of design.
Abstract
Mechanical Engineering Design 3 - the final year course as presently existing in the Department - represents a developed state of that which obtained some years ago. The writer undertook to try to bring into the coursework studies which would exercise engineering interests and imagination as well as appeal to the social service aspects of the profession. Also he considered it important that a major design study should embrace an attempt to design a complete piece of plant, or a system, in detail, and that in so doing at least some topical contact with industry might be contrived. This was not always as successful as could be wished!
Further development of the coursework ought to emphasise the intellectual skills of the Design discipline - but, to do this needs a body of knowledge presently beyond the writer's capability. The course has reached a 'bar', progress beyond which requires a minor revolution of philosophy as well as content.
There are indications that similar changes have been proposed and are in the process of implementation overseas. (These and other references: Wilde, 1981, Crouch, 1981, Wallace, 1981, Lamming, 1981, "Engineering Design Education", Inst, Chem. Engs., "Current Design Thinking", 1979).
Within the provisions of undergraduate curriculum and of time - so much seems indispensible, yet so much more becomes desirable.
There are, possibly, three ways of development waiting to be explored: 1. A fourth professional year, of "Engineering Practice', jointly with industry and 'Industrial Professors'. Emphasising, Marketing - Design and Management, studies. 2. Postgraduate, post experience courses in Engineering Practice - especially design centred, once again utilising 'Industrial Professors'. 3. Research into the Intellectual Process of Design so that a fundamental and scholarly foundation of knowledge of the structure of the discipline may be demonstrated, upon which teaching can proceed.
Towards these ends the writer dedicates these observations.
Citation
Satterthwaite, C. A. Some observations on the teaching of engineering design. Technical report no. 30 (1985). University of Canterbury, Department of Mechanical Engineering.
This citation is automatically generated and may be unreliable. Use as a guide only.
ANZSRC Fields of Research
09 - Engineering::0913 - Mechanical Engineering::091399 - Mechanical Engineering not elsewhere classified
12 - Built Environment and Design::1204 - Engineering Design
13 - Education::1302 - Curriculum and Pedagogy::130212 - Science, Technology and Engineering Curriculum and Pedagogy
39 - Education::3903 - Education systems::390303 - Higher education
Rights
All Rights Reserved
Related items
Showing items related by title, author, creator and subject.
Pedley K

(

Geological Society of New Zealand

,

2018

)

It has long been recognised that Earth science depends upon field data and experience, often surveyed as the leading reason for why geology students enjoy their degree. Petrologist H.H. Read (1957) sums this up in his ...

O'Steen, B.

;

Brogt, E.

;

Chen, X.

;

Chase, Geoff

(

University of Canterbury. School of Educational Studies and Human DevelopmentUniversity of Canterbury. Mechanical EngineeringUniversity of Canterbury. AVC Research Office

,

2010

)

"System sensing" [1], or a feedback loop, has been integrated into the implementation of a new mechatronics engineering curriculum at the University of Canterbury through a sustained, three-year collaboration between ...

Todorova, Nelly

;

Mills, Annette

(

2004

)

Ramsden (1992) suggests that excellence in teaching requires constant attention to how a subject is being understood by students and the ability to use the assessment to change instruction so that it more accurately ...