Balanced harvest: concept, policies, evidence, and management implications
(2019)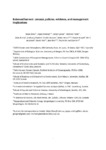 View/Open
Type of Content
Journal Article
Publisher
Springer Science and Business Media LLC
ISSN
0960-3166
1573-5184
Language
English
Authors
Zhou S
Kolding J
Garcia SM
Plank MJ
Bundy A
Charles A
Hansen C
Heino M
Howell D
Jacobsen NS
Reid DG
Rice JC
van Zwieten PAM
show all
Abstract
© 2019, The Author(s). Balanced harvest has been proposed to reduce fishing impact on ecosystems while simultaneously maintaining or even increasing fishery yield. The concept has attracted broad interest, but also received criticisms. In this paper, we examine the theory, modelling studies, empirical evidence, the legal and policy frameworks, and management implications of balanced harvest. The examination reveals unresolved issues and challenges from both scientific and management perspectives. We summarize current knowledge and address common questions relevant to the idea. Major conclusions include: balanced harvest can be expressed in several ways and implemented on multiple levels, and with different approaches e.g. métier based management; it explicitly bridges fisheries and conservation goals in accordance with international legal and policy frameworks; modelling studies and limited empirical evidence reveal that balanced harvest can reduce fishing impact on ecosystem structure and increase the aggregate yield; the extent of balanced harvest is not purely a scientific question, but also a legal and social choice; a transition to balanced harvest may incur short-term economic costs, while in the long-term, economic results will vary across individual fisheries and for society overall; for its application, balanced harvest can be adopted at both strategic and tactical levels and need not be a full implementation, but could aim for a "partially-balanced" harvest. Further objective discussions and research on this subject are needed to move balanced harvest toward supporting a practical ecosystem approach to fisheries.
Citation
Zhou S, Kolding J, Garcia SM, Plank MJ, Bundy A, Charles A, Hansen C, Heino M, Howell D, Jacobsen NS, Reid DG, Rice JC, van Zwieten PAM (2019). Balanced harvest: concept, policies, evidence, and management implications. Reviews in Fish Biology and Fisheries. September 2019, Volume 29, Issue 3, pp 711–733
This citation is automatically generated and may be unreliable. Use as a guide only.
Keywords
Ecosystem approach to fishery; Ecological effect; Ecosystem structure; Fishing intensity; Production; Selectivity; Sustainability
ANZSRC Fields of Research
30 - Agricultural, veterinary and food sciences::3005 - Fisheries sciences::300505 - Fisheries management
30 - Agricultural, veterinary and food sciences::3005 - Fisheries sciences::300502 - Aquaculture and fisheries stock assessment
49 - Mathematical sciences::4901 - Applied mathematics::490102 - Biological mathematics
Related items
Showing items related by title, author, creator and subject.
Law R

;

Plank MJ

(

Wiley

,

2018

)

© 2018 John Wiley & Sons Ltd Current fisheries management pays little attention to fisheries-induced evolution. Methods of exploitation that have benefits in the short term while ameliorating selection in the longer term ...

Hackney M

;

James A

;

Plank MJ

(

Elsevier BV

,

2019

)

Fisheries management strategies in which large fish are selectively targeted and younger, smaller fish are protected can lead to disruption of stocks, truncation of the population size spectrum, and impaired recruitment. ...

Plank MJ

;

Allen MS

;

Nims R

;

Ladefoged TN

(

Elsevier BV

,

2018

)

Establishing whether pre-industrial societies caused significant harvesting impacts on fish stocks is often hindered by the paucity of historic evidence. Some archaeological assemblages contain information on the sizes ...