Between footnotes, rumours, and field notes, locating memories of extra-judicial killings from North East India
(2019)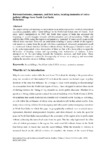 View/Open
Type of Content
Journal Article
Publisher
Project Monma Research Centre
ISSN
2463-2945
Abstract
This paper attempts at initiating a conversation on an under-represented event of extrajudicial executions popularly called 'secret killings' in the North East Indian state of Assam. Ever since India's independence in 1947, the North East region of India has witnessed the beginning of armed struggles towards self-determination and sub-nationalism. Unlike and until the late 1990s, today the region is comparatively 'peaceful' if peace would equate to the official death statistics. However, an ambivalent meaning of peace unfolds in the region's oral narratives coming from the people who have experienced, witnessed, perpetrated, recall or overlooked violence that had left them without closure. In this paper, I intend to reach out to the under-represented voices irrespective of their sex but with a keen reflection upon the difficulties of locating women and representing their testimonies of violence. I have attempted to do this gravitating towards the footnotes, rumours, and field notes. These vignettes and memories contest the homogeneity of women as a category and necessitate making the narrative on secret killings inclusive
Keywords
rumours; memories; women; ULFA; North East India; Secret killings
Rights
Creative Commons Attribution 4.0 International License.
Except where otherwise noted, this item's license is described as Creative Commons Attribution 4.0 International License.
Related items
Showing items related by title, author, creator and subject.
Martens, A.

;

Kosloff, S.

;

Greenberg, J.

;

Landau, M.J.

;

Schmader, T.

(

University of Canterbury. Psychology.

,

2007

)

Killing appears to perpetuate itself even in the absence of retaliation. This phenomenon may occur in part as a means to justify prior killing and so ease the threat of prior killing. In addition, this effect should arise ...

McKenzie, Grant

;

Adams, Ben

(

Schloss Dagstuhl -- Leibniz-Zentrum fur Informatik

,

2017

)

Typical approaches to defining regions, districts or neighborhoods within a city often focus on place instances of a similar type that are grouped together. For example, most cities have at least one bar district defined ...

Rawat M

;

Philip S

;

Grills N

;

Mathias, Kaaren

(

Springer Science and Business Media LLC

,

2020

)

Background: The COVID-19 crisis in India negatively impacted mental health due to both the disease and the harsh lockdown, yet there are almost no qualitative studies describing mental health impacts or the strategies of ...