Tape Leaders: A Compendium of Early British Electronic Music Composers by Ian Helliwell (Book review)
(2017)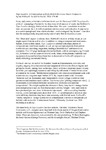 Type of Content
Other
Publisher
Cambridge University Press
ISSN
1413-7704
1478-2286
Language
en
Abstract
In my early teens, a formative reference book was the Illustrated NME Encyclopedia of Rock1, a jumping-off point for the discovery of all manner of bands. Ian Helliwell's Tape Leaders strongly reminded me of that tome. His work is academic in neither tone nor content, but it is well researched, rich in content and seductive. It may serve as a useful springboard from which scholars – or the intrigued 'lay listener' – can dive into the unsuspectedly deep and murky end of early British electronic music.
Citation
Gardner JE (2017). Tape Leaders: A Compendium of Early British Electronic Music Composers by Ian Helliwell (Book review). Tempo, volume 71, Issue 280, April 2017, pp. 95-97
This citation is automatically generated and may be unreliable. Use as a guide only.
ANZSRC Fields of Research
19 - Studies in the Creative Arts and Writing::1904 - Performing Arts and Creative Writing::190409 - Musicology and Ethnomusicology
19 - Studies in the Creative Arts and Writing::1904 - Performing Arts and Creative Writing::190406 - Music Composition