Protein crosslinking.
(1998)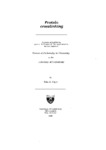 View/Open
Type of Content
Theses / Dissertations
Thesis Discipline
Chemistry
Degree Name
Doctor of Philosophy
Publisher
University of Canterbury
Language
English
Collections
Abstract
This thesis is primarily concerned with the DHA-mediated formation of non-disulfide protein crosslinks as a result of the Maillard reaction. Prior to investigating this reaction, an efficient method for the preparation of pure DHA hydrate was optimised and the compound characterised. · DHA was shown to react with amino acids and amino acid derivatives and a separation technique was developed which enabled identification of two reaction products. DHA was shown to react with model proteins, and the formation of DHA-mediated covalent crosslinks between protein monomers was demonstrated using an electrophoretic technique, which had previously been optimised. The effects of various conditions on the crosslinking reaction were examined. Mechanistic studies provided compelling evidence that crosslink formation was occurring at the e-amino group of the lysine residue. Various degradation products of DHA, including cyclotene, the structure of which was definitively determined by X-ray crystallography, were shown to crosslink model proteins under standard conditions. Analysis of the products of the cyclotene-protein reaction system, by electrospray mass spectrometry, indicated that the successive addition of four cyclotene molecules to the protein had occurred, providing evidence for a Schiff base intermediate in the crosslinking reaction.
The latter stages of this thesis explored an enzyme-mediated mechanism for the introduction of non-disulfide protein crosslinks. The enzyme TGAse was shown to crosslink HMW glutenin subunits in vitro. Proteins extracted from a bread dough containing TGAse were analysed by SE-HPLC and compared to those from a control dough. TGAse was found to decrease the SDS-soluble glutenin fraction and increase the SDS-insoluble glutenin fraction. The water soluble proteins and gliadins remained unchanged. TGAse was shown to have a profound effect on the properties of a baked loaf. Loaves to which TGAse had been added demonstrated an increase in the volume of water which can be maintained by the dough, increased crumb strength, improved texture and a decrease in the optimum work input. These previously unreported effects show great promise for its use as a processing aid in the bulk manufacture of white pan bread.
Rights
All Rights Reserved