Spectroscopic analysis of trace gas concentrations in the urban atmosphere.
(1998)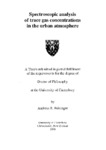 View/Open
Type of Content
Theses / Dissertations
Thesis Discipline
Physics
Degree Name
Doctor of Philosophy
Publisher
University of Canterbury
Language
English
Collections
Abstract
A spectroscopic differential absorption system for the measurement of tropospheric trace gases has been designed, built, and operated. The technique allows the measurement of ambient trace gas concentrations by transmitting a light beam through the open atmosphere and recording their characteristic absorption patterns for quantitative analysis. Two spectrometers were operated in parallel to allow the near-simultaneous measurement of a wide range of trace gases in the infrared and ultraviolet/visible spectral ranges.
The system was set up to record the ambient concentrations of gaseous air pollutants in Christchurch, New Zealand (pop. 300.000), during the winter of 1997. Measured trace gases include CO₂ NO, N₂2, 0 ₃, C₆H₆, HNO₂, C₂H₄, CH₃OH, and C₆H₁₄, as well as the greenhouse gases CO₂, CH4, N₂O, and H₂O. The measurement of suspended particulate matter, a recognised major contributor to air pollution in Christchurch, was excluded from this study.
Observed trace gas concentrations were analysed with regard to sources and relative strengths of primary air pollutants in Christchurch, the absolute concentrations and chemical processes responsible for the production of NO₂, and the chemistry involved in the formation of HNO₂ which plays an important role in the formation of photochemical smog.
Major findings regarding the sources of primary pollutants were: (1) The ambient NO/CO ratio is significantly lower than the predicted ratio based on Christchurch emission inventory estimates. The most likely explanation for this is that CO emissions from motor vehicle traffic may be as much as a factor of 4 higher than currently assumed. (2) The ambient concentration of C₆H₆ is highly correlated with CO, which indicates that motor vehicles are a major source for C₆H₆ in Christchurch. Using this correlation, C₆H₆ concentrations comparable to major cities overseas may be estimated for road-side locations in central Christchurch. A nightly increase in the C₆H₆ ratio suggests that emissions from domestic heating may also contribute significantly to ambient C₆H₆ levels during the evening and night. (3) The hydrocarbons C₆H₁₄, C₂H₄, and CH₃OH show varying degrees of correla­tion with CO which allow the following source apportionment. Dominant sources of C₆H₁₄ are probably motor vehicle emissions, while C₂H₄ is also emitted to a significant extent from domestic heating. CH₃OH originates almost exclusively from domestic heating which could make it a convenient marker compound once specific emission rates from wood-burners are known.
Concentrations of NO₂ during winter could be qualitatively explained by direct emissions and conversion from NO through its reaction with 0 ₃• The stable inversion layer which forms over Christchurch during winter nights was shown to be responsible for higher NO₂ concentrations at an elevated site compared to the ground level. This allows the conclusion that the brown haze layer which is frequently observed over Christchurch during still winter days consists of elevated concentrations of NO₂.
The measurements of HNO₂ represent the first observation of this compound in the southern hemisphere. Its concentrations showed a high degree of correlation with NO₂ which however may be explained by the dominance of the inversion layer on pollutant concentrations in Christchurch. The ratio of HNO₂/NO₂ showed a linear dependence on the estimated total aerosol surface density which supports current theories that heterogeneous production of HNO₂ on aerosol surfaces may act as a significant source of this compound. Other explanations of the observed correlation can however not be ruled out because of the lack of meteorological data on the chemical and dynamical history of the observed air masses.
Possible extensions and further applications of this technique for the monitoring of air quality and emissions from motor vehicles and domestic heating are discussed at the end of this thesis.
Rights
All Rights Reserved