Computing the minimum number of hybridization events for a consistent evolutionary history
(2007)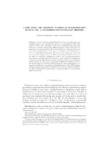 View/Open
Type of Content
Journal Articles
Publisher
University of Canterbury. Mathematics and Statistics.
ISSN
0166-218X
Collections
Authors
Bordewich, M.,
Semple, C.
show all
Abstract
It is now well-documented that the structure of evolutionary relationships between a set of present-day species is not necessarily tree-like. The reason for this is that reticulation events such as hybridizations mean that species are a mixture of genes from different ancestors. Since such events are relatively rare, a fundamental problem for biologists is to determine the smallest number of hybridization events required to explain a given (input) set of data in a single (hybrid) phylogeny. The main results of this paper show that computing this smallest number is APX-hard, and thus NP-hard, in the case the input is a collection of phylogenetic trees on sets of present-day species. This answers a problem which was raised at a recent conference (Phylogenetic Combinatorics and Applications, Uppsala University, 2004). As a consequence of these results, we also correct a previously published NP-hardness proof in the case the input is a collection of binary sequences, where each sequence represents the attributes of a particular present-day species. The APX-hardness of these problems means that it is unlikely that there is an efficient algorithm for either computing the result exactly or approximating it to any arbitrary degree of accuracy.
Citation
Bordewich, M., Semple, C. (2007) Computing the minimum number of hybridization events for a consistent evolutionary history. Discrete Applied Mathematics, 155(8), pp. 914-928.
This citation is automatically generated and may be unreliable. Use as a guide only.
Keywords
Rooted phylogenetic tree; Reticulate evolution; Hybrid phylogeny; Phylogenetic network; Agreement forest; Rooted subtree prune and regraft