Subject Guides and Resource Discovery
(2019)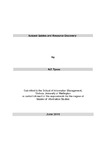 Type of Content
Theses / Dissertations
Thesis Discipline
Information Studies
Degree Name
Master of Information Studies
Collections
Abstract
Subject guides are disciplinary resource discovery maps long created by librarians to assist library users in independently locating resources within the library. While best practices in the design and promotion of guides are well documented in the literature, analyses of usage are scant. Furthermore, given developments in resource discovery, including Web-scale discovery tools and Google Scholar, subject guide usage needs to be contextualised in relation to the usage of other discovery tools.
Keywords
Google Scholar; web-scale discovery; databases; academic discipline; resource discovery tools; Subject guides
Rights
CC-BY 4.0 Creative Commons Attribution 4.0 International
Except where otherwise noted, this item's license is described as CC-BY 4.0 Creative Commons Attribution 4.0 International
Related items
Showing items related by title, author, creator and subject.
Tyson, Fiona

(

UC Library

,

2021

)

This survey of academic staff at the University of Canterbury has revealed a discrepancy between current academic practice in textbook use and student/publisher practices. More specifically, academics practices within UC ...

Cepe, Milesa

(

University of Canterbury. Psychology

,

2014

)

While Facebook is primarily used as a means to communicate with friends, it may serve as a distractor from study. Laptops and tablets with Internet access are almost ubiquitous among primary, secondary and tertiary students ...

Dixon, K.

(

University of Canterbury. Department of Accounting and Information Systems

,

2010

)

Purpose – University academics are an important source of the discovery of knowledge about accounting practice and accounting learning in New Zealand. This paper considers the consequences for the Pacific society of New ...