The Rise of the Sustainable Society from the Ashes of the Oil Empire
(2004)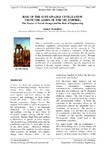 Type of Content
Conference Contributions - Other
Publisher
University of Canterbury. Mechanical Engineering.
Collections
Abstract
Only a sustainable system can function sustainably. Economics, technology, regulation, environmental impacts and costs are the context for individual choice, they are not the reason for it. The irresistible driver for any civilization is continuity. If the people could see and experience the context of continuity, then the journey to that destination could begin through deliberate action. Through integration of the disciplines, and utilization of 21st Century technology, we can forge a new capability to envisage the architecture of a sustainable civilization, and the implement for realizing it through strategic change. The alternative route to change is both conceivable and inconceivable.
Citation
Krumdieck, S. (2004) The Rise of the Sustainable Society from the Ashes of the Oil Empire. Christchurch: ESR Conference, 27 Mar 2004.
This citation is automatically generated and may be unreliable. Use as a guide only.