Shoreline development at Lake Dunstan, South Island, New Zealand
(1998)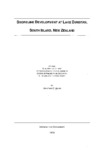 View/Open
Type of Content
Electronic Thesis or Dissertation
Thesis Discipline
Geography
Degree Name
Doctor of Philosophy
Publisher
University of Canterbury
Language
English
Collections
Abstract
Scientific evidence suitable for documenting and evaluating evolution of a shoreline at field scale from an 'initial' state is rare in the literature. Thus, descriptions of shoreline development and the derivation of suitable working models to depict process-response relationships have largely been based on beach change from a pre-existing state as opposed to development from an 'initial' state.
On September 2, 1993, the filling of Lake Dunstan (a 26.4 km² hydro-electric power generating lake) was completed and 152.1 km of valley sides, floor, and 'designed' lakeshore were exposed to a completely new regime of geomorphological processes comprised of wind waves, underwater currents and lake levels. These processes have been correcting an 'initial' shore sediment budget imbalance by redistributing and sorting grain-sizes to form beaches with 'preferred' morphologies. This thesis provides a comprehensive examination and documentation of the morphological temporal development of beaches at Lake Dunstan ab initio. The investigation covers the first four years of shore and beach formation on the lake, including the effects of three successive lakefill holding stages of varying durations. To the writer's knowledge, this represents the first time this has been achieved in such a comprehensive form for a lacustrine environment.
Prior to the raising of the lake, a thorough examination of the antecedent conditions was made of the shore in the form of geomorphological mapping and sediment analysis. Results from this indicated that beaches could develop along two-thirds of the shoreline, the bulk of which is comprised of glacio-fluviatile outwash gravels (49.6%) that are predominantly coarse (Mz = -2.600), very poorly sorted (a01 = 2.320}, strongly fine skewed (SK₁ = 0.31), and that contains a wide range of sizes in six modal classes. These data have provided a baseline from which subsequent re-sampling have been compared. The remaining shores not able to form beaches are characterised by schist rock (17.2%), anthropogenic effects in the form of placed rip-rap (15.4%), and tertiary sediments (4%).
Wave measurements made with an lnterOcean S4ADW directional wave recorder and a WG-30 capacitance wave staff have supplemented understanding of process-response relationships associated with beach development at Lake Dunstan. Results indicate that waves on the lake are predominantly small (Hs = 0.07 to 0.57 m, HMAx "" 1.05 m}, dominated by high frequency waves (T2 = 1.5 to 2.9 s}, and are extremely steep natured (HJI,0 = 0.011 to 0.077) making them highly erosional at the shore. Quantified wave data were supplemented with hindcasted wave information from NARFET (a narrow fetch deepwater wave hindcasting computer program developed by Smith (1991) at CERC}. Results from the wave measurements and hindcasting suggest that the amount of work that can be done by waves on the lake is confined to a small portion of the wave spectrum. Further, the bulk of the work occurs landward of the breaker zone primarily because of the rapid attenuation of wave-induced oscillatory currents with depth, and by the coarseness of the nearshore grain-sizes.
Repeated beach profiling over relatively short inter-survey periods was carried out at 26 beach profile sites, enabling the temporal morphological development of beaches at Lake Dunstan to be quantified. Over 500 beach surveys were carried out between September 9, 1992 and November 21, 1996. The beach survey data was examined using excursion distance analysis (EDA), to distinguish the spatial and temporal response of individual beach profiles. The EDA data were also rendered dimensionless facilitating modelling of the temporal evolution of beach profiles using simple linear or curvilinear regression techniques. These findings showed that beach development for the majority of profile sites was characterised by negative curvilinear trends of temporal change indicating an initial rapid sequence of shore erosion which progressively declined over time. This type of response is consistent with that inferred in the literature. A feature of the modelled patterns of change was that the response times of beaches at Lake Dunstan were extremely rapid with the most significant changes occurring in the first five months. As well as negative curvilinear temporal evolution, negative linear, positive curvilinear and positive linear temporal trends of change were also recognised.
Results from the beach profiling indicated that shoreline development at Lake Dunstan has been characterised by redistribution of beach sediments on the lakeshore to correct a state of imbalance of the 'initial' shore sediment budget. Quantified inter-survey net beach volume changes since inception ranged from +5.89 m³ .m⁻¹ to -7.12 m³ .m⁻¹ of beach, with the most significant adjustments identified shortly after inception. The largest net volume changes were noted at sites exposed to the highest wave energies, while sites along the axial shores did not adjust as much because of longshore sediment movement.
Beach formation at Lake Dunstan could be divided into seven stages of development, with stages one and two (both coincident with large storms and high lake levels) producing substantial alterations to the shore sediments and morphologies, particularly in terms of founding the broad dimensions of the beaches. By January 1994 (five months after inception) three broad types of beach morphologies were clearly established on the shores. These include an upward concave outward convex profile, a linear profile, and a linear beach with a convex outward nearshore profile. These findings contrast with previous lacustrine work which has proposed only one type of morphology for small lakes in New Zealand. Despite parts of the shoreline having been preformed prior to lakefill, beaches have developed from the imposed form. Three types of nearshore shelf development were also noted including an 'erosional' shelf, a 'constructional' shelf, and an 'erosional/constructional' shelf. These findings also contrast with previous work. The Bruun (1962) conceptual model of shore profile response to a water level increase was found to perform poorly. This was attributed to the two-dimensional nature of the model and the three dimensional nature of beach forming processes at Lake Dunstan.
From a comparison of pre- and post-lakefill textural sedimentary changes, important modifications to the shore sediments were identified. Hydrodynamically unstable sediments (fines) were removed from the shore. Also identified was enrichment of the shore sediments either by a primary coarse mode (-4.50 to -5.50) or enrichment by both a primary coarse mode (-4.50 to -5.50) and a secondary mode (-2.50 to -3.50). Thus, what came to be the predominant beach foreshore material at Lake ·Dunstan was the most abundant grain-size fraction present in the original shore. Because of these adjustments, beach sediments at Lake Dunstan coarsened (Mz = -3.720), sorting improved (a10 = 0.990), and skewness decreased (SK₁ = 0.18). Findings from Lake Dunstan have indicated that source, sediment size and mobility of whole grain-size fractions have been fundamental elements in the development of beaches.
Based on the principal findings of the study, two conceptual models of shoreline development ab initio have been developed. An earlier model of nearshore shelf and beach stability on alpine lakeshores developed by Pickrill (1976, 1983) has been shown to be deficient because it takes no account of the slope of the shore prior to the action of wave and current processes. In general wider shelves must form where 'initial' slope angles are low, while narrower shelves tend to form where 'initial' slopes are steep. A new model specifically relating 'initial' slope to the width of the developed nearshore shelf is presented.
Rights
All Rights Reserved