Patterns and Pricing of Idiosyncratic Volatility in the French Stock Market
(2018)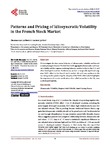 View/Open
Type of Content
Journal Article
ISSN
2162-2078
2162-2086
Collections
Abstract
We investigate the time series behavior of idiosyncratic volatility and its role in asset pricing in France. We find that both aggregate idiosyncratic and market volatility exhibit regime switching behavior similar to that in the U.S. and other developed countries. Furthermore, we find a marginally significant negative IVOL effect in the French stock market. We add new evidence to the mounting results questioning the ubiquity of the IVOL effect which highlights the importance of country verification of so called anomalies in the US, even in developed markets.
Keywords
Idiosyncratic Volatility; Regime Switch Model; Asset Pricing; France
ANZSRC Fields of Research
14 - Economics
15 - Commerce, Management, Tourism and Services::1502 - Banking, Finance and Investment
Rights
Copyright © 2018 by authors and Scientific Research Publishing Inc. This work is licensed under the Creative Commons Attribution International License (CC BY 4.0). http://creativecommons.org/licenses/by/4.0/
Related items
Showing items related by title, author, creator and subject.
Keefe M

;

Yaghoubi, Mona

(

Emerald

,

2018

)

Purpose - This study investigates the effects of two important financing sources, debt and cash, on a firm's investment decisions and explores the intertemporal impact of this financing on future investment volatility. ...

Bialkowski, J.

;

Nahavandi, A.

(

2018

)

The paper provides evidence for the existence of a midterm election effect on the US equity market. By examining the quarterly total returns on the S&P 500 Index between 1954 and 2017, we show that, nine times out of 10, ...

Wei X

;

Bialkowski, Jedrzej

;

Dang, Huong Dieu

(

2022

)

Motivated by the extremely low level of the CBOE VIX accompanied by the high level of US economic policy uncertainty in the period of late 2016 to the end of 2017, we examine the factors affecting the relationship ...