An investigation of excessive corona on a new 275kV line
(2008)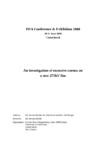 View/Open
Type of Content
Conference Contributions - Published
Publisher
University of Canterbury. Electrical and Computer Engineering.
Collections
Authors
Hardie, S.,
Wood, A.,
Bodger, P.S.
show all
Abstract
A theoretical and practical investigation was performed by the EPECentre into the causes of previously unexplained excessive corona on ElectraNet's new 275kV line at Bungama, South Australia. The corona audible noise occasionally exceeds Australian Environment Protection (Industrial noise) Policy maximum acceptable levels. Surface voltage gradients and corona inception voltages were calculated for the conductor spacing and arrangement. Three pieces of conductor, being used Bungama conductor, new Bungama conductor and new conductor from another manufacturer, were high voltage tested under a range of conditions in the HV laboratory at the Electrical and Computer Engineering Department, University of Canterbury. Corona discharge magnitudes and counts were recorded for original, cleaned and washed conductor situations. Rain was also simulated. A further test involving polished spheres was performed to determine the surface effect of both clean and dirty conductor grease on the electrical breakdown of air. A site visit to Bungama provided further evidence for the causes of the excessive corona. The investigation revealed that a combination of dirty surface grease and high surface voltage gradients generates the high levels of corona. Several recommendations to prevent such a situation in the future are provided.
Citation
Hardie, S., Wood, A., Bodger, P.S. (2008) An investigation of excessive corona on a new 275kV line. Christchurch, New Zealand: EEA Conference 2008, 20-21 Jun 2008.
This citation is automatically generated and may be unreliable. Use as a guide only.