Assessment of cumulative inelastic displacement demand in energy dissipation systems using the Grip 'n' Grab tension only mechanism
(2019)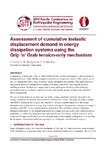 View/Open
Type of Content
Conference Contributions - Published
Collections
Authors
Cook J,
Rodgers G,
MacRae G
show all
Abstract
A ratcheting, tension-only 'Grip 'n' Grab' (GNG) device has been developed to offer resistance to loading in tension, while offering negligible resistance to compressive motion. This system can be used in conjunction with a range of seismic energy dissipation mechanisms. The single direction engagement allows for unimpeded re-seating of rocking connections removing the need for buckling restraint. Furthermore, engagement is more rapid upon reloading as the ratcheting mechanism removes residual compressive loads, reducing the amount of elastic take-up before tensile engagement. The use of such ratcheting mechanisms can induce a large cumulative inelastic demand on the energy dissipation mechanism, which must be considered in design. This paper develops a simple OpenSEES rocking model to assess the cumulative inelastic demand imposed on the energy dissipation mechanism across a range of ground motion inputs. A parametric study across a range of structures and GNG device configurations is undertaken. The cumulative inelastic dissipater demand is normalised to the demand imposed from a single response cycle at the maximum design amplitude, to enable easy integration into structural design. This design method proposed can be easily used to approximate the cumulative demand imposed by multiple earthquakes, to ensure that the dissipative element has sufficient capacity for an earthquake and aftershock sequence.
Citation
Cook J, Rodgers G, MacRae G (2019). Assessment of cumulative inelastic displacement demand in energy dissipation systems using the Grip 'n' Grab tension only mechanism. Auckland, New Zealand: 11th Pacific Conference on Earthquake Engineering. 04/04/2019-06/04/2019.
This citation is automatically generated and may be unreliable. Use as a guide only.
ANZSRC Fields of Research
09 - Engineering::0905 - Civil Engineering::090504 - Earthquake Engineering
09 - Engineering::0905 - Civil Engineering::090506 - Structural Engineering