Value extraction from waste in the steelmaking industry
(2018)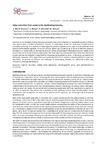 View/Open
Type of Content
Conference Contributions - Published
Collections
Authors
Martin-Treceno S
Bishop C
Marshall A
Watson MJ
show all
Abstract
As the standard of living improves worldwide, the current emphasis on sustainable growth is creating new opportunities in traditional industrial practices. In steelmaking, where the production of solid waste is inevitable, extracting more value from metallurgical by-products appears vital to cope with the advances in the field of environmental regulation in the 21st century. Waste slag containing up to 30 wt. % titanium dioxide is available in its molten state, as the main by-product of New Zealand Steel's steelmaking process. Based on the current titanium (Ti) price, extracting high purity metal from slag is a promising alternative to the incumbent Kroll process and has the potential of exponentially increasing the by-product's value. In this study, we explore the electrolytic separation of Ti in light of the vast availability of the Ti-rich mixture contained within the waste slag. Specifically, we present the features and challenges of electrolyzing complex, not sufficiently studied, slag mixtures at ultra-high temperature.
Citation
Martin-Treceno S, Bishop C, Marshall A, Watson MJ (2018). Value extraction from waste in the steelmaking industry. Queenstown, New Zealand: 47th Chemeca Conference (Chemeca 2018). 30/09/2018-03/10/2018.
This citation is automatically generated and may be unreliable. Use as a guide only.
Keywords
titanium extraction; molten oxide electrolysis; ultra-high temperature processing; titanomagnetite sands
ANZSRC Fields of Research
40 - Engineering::4014 - Manufacturing engineering::401408 - Manufacturing processes and technologies (excl. textiles)
09 - Engineering::0904 - Chemical Engineering::090499 - Chemical Engineering not elsewhere classified
40 - Engineering::4019 - Resources engineering and extractive metallurgy::401908 - Pyrometallurgy
Related items
Showing items related by title, author, creator and subject.
Martin-Treceno S

;

Hughes T

;

Bishop C

;

Brown I

;

Jia Y

;

Marshall A

;

Watson MJ

(

2018

)

A new process to produce affordable titanium metal has the potential to widen its use. In New Zealand, up to 200,000 tonnes/year of Ti-rich slag is available as a by-product of the steelmaking process. Recently, molten ...

Kramer M

;

McKelvie M

;

Watson MJ

(

2017

)

Steam–methane reforming is a highly endothermic reaction, which is carried out at temperatures up to 1100 C and pressures up to 3000 kPa, typically with a Ni-based catalyst distributed over a substrate of discrete alumina ...

Martín Treceno, Samuel

(

University of Canterbury

,

2020

)

This thesis is a comprehensive study of ironmaking slag produced from titanomagnetite concentrates and its use as a molten electrolyte for titanium metal extraction. The electrolysis of ironmaking slag, the largest by-product ...