Engineering geological investigations and hazard assessment for the Picton, Waikawa and Shakespeare Bay area, Marlborough Sounds.
(1989)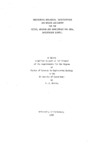 View/Open
Type of Content
Theses / Dissertations
Thesis Discipline
Geology
Degree Name
Master of Science
Publisher
University of Canterbury
Language
English
Collections
Abstract
The township of Picton, situated at the south-western corner of the Marlborough Sounds, is experiencing steady urban growth due to its servicing role and healthy tourism industry. The adjacent areas of Waikawa and Shakespeare Bay are identified as likely sites for future urban expansion. Increasing pressure for the development of less geotechnically favourable building sites has highlighted the need for improved engineering geological and geotechnical data on which to base land use planning decisions. This study provides an engineering geological assessment of the Picton, Waikawa and Shakespeare Bay catchments and investigates the various geological hazards facing urban development in these areas.
The Mesozoic age Pelorus Group greywackes and Marlborough Schists underlying most of the study area are moderately to highly weathered, and landsliding is common on steeper slopes during periods of heavy rainfall. A number of generally north-east trending faults are mapped in the area, and a degraded surface trace of the Waikawa Fault is visible to the east of Picton. Investigations suggest that this fault has been active during the past 5000 years. Large volumes of alluvial gravels infill the lower catchment areas of Picton and Waikawa, and the resulting areas of low lying terrain are prone to flooding.
Engineering geological mapping utilising both air photograph interpretation and field mapping techniques was completed for the whole study area at 1:10000, and the Waikawa area only at 1:5000. These maps show bedrock geology, surficial deposits, and geomorphic features, and as such provide a guide to expected foundation conditions. Limited laboratory testing was also undertaken to characterise the geotechnical properties of weathered bedrock materials·.
On the basis of engineering geological mapping, and site specific engineering geological investigation at scales of 1:50-1:1250, the hazardous geological processes potentially affecting the study area were identified as: landsliding, flooding, debris deposition, stream bank erosion, coastal erosion, ground subsidence and seismicity. Each of these processes were investigated, and engineering geological models formulated to synthesize field observations and interpretations. A hazard map for the Waikawa residential area was compiled based on engineering geological mapping, and shows the areas potentially at risk from the above processes, together with estimates of the probability of occurrence of a hazardous event. Individual assessment of the hazards posed by each geological process was undertaken on the basis of the age and magnitude of most recent activity. Through examination of both the historical and geological record some estimate of the likely return periods for various hazardous events was possible.
A development suitability map was then compiled for the whole study area, based on engineering geological investigations and hazard assessment. This map indicates the extent of geotechnical limitations on future development, and as such is intended for use in the context of land use planning and administration. This map identifies a number of areas where extreme geotechnical limitations severely restrict future development, but also indicates the most favourable sites for urban expansion.
Rights
All Rights Reserved