Estimating winch-assist utilisation using GPS tracking.
(2018)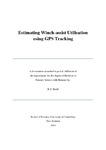 View/Open
Type of Content
Electronic Thesis or Dissertation
Thesis Discipline
Forestry
Degree Name
Bachelor of Forestry Science
Publisher
University of Canterbury
Language
English
Collections
Abstract
Winch-assist systems have become increasingly common in New Zealand as the drive to mechanise forest operations increases, with the aim of reducing accidents and improving the productivity of tree felling on steep slopes. Utilisation rates of forestry machines aid both management and operational decisions, as well as providing an understanding the frequency machines are used. Highlighting factors that influence utilisation rates is crucial in improving the productivity and efficiency of not only the individual machine, but the entire operation.
The results from this study aim to improve the understanding of how often winch-assist machines are utilised, as well as identifying factors that influence their utilisation. This study also aimed to determine how accurate GPS systems are at estimating utilisation rates, as a form of automated data capture that could potentially replace the traditional manual methods.
TeletracNavman GPS units were installed in a purpose built Caterpillar 552 felling machine, with self-levelling capabilities, and a Tractionline winch-assist machine (Hitachi 290 base). These GPS units recorded data used to derive two utilisation rates of the Tractionline winch-assist, based on different criteria relating to machine use. Utilisation Rate 1 was 60%, and derived for just the 88 days the winch-assist and felling machines worked together. Utilisation Rate 2 was 43%, and derived based on the potential time the winch-assist could have been used during the study period; including a total of 35 days the winch-assist was not used at all. The study highlighted three main factors that influenced the utilisation rate of the winch-assist. These factors were derived from Utilisation Rate 1. The main factors found to influence Utilisation Rate 1 of the winch-assist were: • Frequency the winch-assist wasn't used. • Area felled/day. • Delays - Non-operational winch moves - Machine Idle
Keywords
Winch-assist, EMS Tractionline, Steep Slope, Tree Felling, GPS, Utilisation Rate