Rabbit bound.
(1986)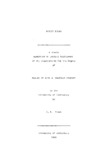 View/Open
Type of Content
Electronic Thesis or Dissertation
Thesis Discipline
American Studies
Degree Name
Master of Arts
Publisher
University of Canterbury
Language
English
Collections
Abstract
This work looks at John Updike's trilogy of Rabbit, Run, Rabbit Redux and Rabbit is Rich and makes the contention that there is an overall thematic line in these works. The three novels are approached in toto, theme wise, although there is also to some degree, a time progression as the chapters develop. The character of Harry Angstrom, known as Rabbit, is the prime consideration of this study and the presentation is organised in terms of a thematic approach rather than as a discussion of style or technique.
The three novels, in being treated as an entity, have had little material written on them; thus this thesis is breaking new ground, Furthermore, in previous studies of the first two novels, critics have failed to isolate and then to elucidate upon, a theme that all other themes are subversive to and are therefore, conditioned by.
The trilogy covers a twenty year period and each novel exhibits similar formats: Rabbit is shown as a disillusioned individual who looks to escape from an unhappy situation; he "experiences"; and then like the prodigal son, returns. In each of the novels however, the breakdown of the institution is different, as to, is the goal searched for different. Having substantiated the claim that there is an overall theme for the three works, we then consider its implications for the protagonist and whether our understanding and knowledge of the character of Rabbit is more complete because of it.
Rights
All Rights Reserved