RECOVER Issue 2
(2018)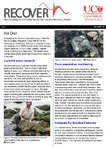 Type of Content
Reports
ISSN
2703-1969
Collections
Abstract
Welcome to the Recover newsletter Issue 2 from the Marine Ecology Research Group (MERG) at the University of Canterbury. Recover is designed to keep you updated on our MBIE funded earthquake recovery project called RECOVER (Reef Ecology, Coastal Values & Earthquake Recovery). This second issue profiles some of the recent work done by our team out in the field!
ANZSRC Fields of Research
31 - Biological sciences::3103 - Ecology::310305 - Marine and estuarine ecology (incl. marine ichthyology)
Rights
https://creativecommons.org/licenses/by-nc-nd/4.0/
Related items
Showing items related by title, author, creator and subject.
Orchard, S

;

Smeele, Z

(

2018

)

Welcome to the first Recover newsletter from the Marine Ecology Research Group (MERG) at the University of Canterbury. Recover is designed to keep you updated on our MBIE funded earthquake recovery project called RECOVER ...

Montie, Shinae

;

Thomsen, Mads S.

;

Rack, Wolfgang

;

Broady, Paul A.

(

Cambridge University Press (CUP)

,

2020

)

Hewitt, J.E.

;

Bell, R.

;

Costello, M.

;

Cummings, V.

;

Currie, K.

;

Ellis, J.

;

Francis, M.

;

Froude, V.

;

Gorman, R.

;

Hall, J.

;

Inglis, G.J.

;

MacDiarmid, A.

;

Mills, G.

;

Pinkerton, M.

;

Schiel, D.

;

Swales, A.

;

Law, C.

;

McBride, G.

;

Nodder, S.

;

Rowden, A.

;

Smith, M.

;

Thompson, D.

;

Torres, L.

;

Tuck, I.

;

Wing, S.

(

University of Canterbury. Biological Sciences

,

2014

)