Audit data analytics : current practice and determinants among audit firms in New Zealand.
(2019)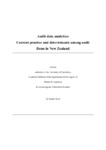 View/Open
Type of Content
Theses / Dissertations
Thesis Discipline
Accountancy
Degree Name
Master of Commerce
Publisher
University of Canterbury
Language
English
Collections
Abstract
This study explores and attempts to provide an in-depth understanding of the current practice and determinants of use of audit data analytics in the context of large audit firms in New Zealand. Specifically, this study examines both the current use of audit data analytics among large audit firms in New Zealand, and the determinants of the use of audit data analytics. Fifteen semi-structured interviews were conducted involving seventeen interviewees from six participating case firms. The findings revealed that the current use of relatively advanced audit data analytics is perceived to be low, and the main differentiators of use of audit data analytics between firms are the types of tools involved and the firm structure. Using the technology-organisation- environment framework as an organising framework, the findings also highlighted the significant determinants of audit data analytics use. The study also found that auditors perceived audit data analytics as enjoyable and fulfilling to them, which was an unintended outcome. The findings of this study addresses gaps in the literature and are applicable to practice in encouraging use of data analytics in the firm.
Rights
All Rights Reserved