Assessing Climate Change Impacts on River Flows in the Tonle Sap Lake Basin, Cambodia
(2019)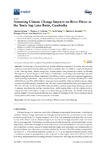 View/Open
Type of Content
Journal Article
Publisher
MDPI AG
ISSN
2073-4441
Language
English
Collections
Authors
Oeurng C
Cochrane T
Chung S
Kondolf M
Piman T
Arias M
show all
Abstract
The Tonle Sap is the most fertile and diverse freshwater ecosystem in Southeast Asia, receiving nurturing water flows from the Mekong and its immediate basin. In addition to rapid development in the Tonle Sap basin, climate change may threaten natural flow patterns that sustain its diversity. The impacts of climate change on river flows in 11 sub-basins contributing to the Tonle Sap Lake were assessed using the Soil and Water Assessment Tool (SWAT) model to quantify the potential magnitude of future hydrological alterations. Projected river flows from three General Circulation Models (GFDL-CM3, GISS-E2-R-CC and IPSL-CM5A-MR) for three time horizons (2030s, 2060s and 2090s) indicate a likely decrease in both the wet and dry season flows. The mean annual projected flow reductions range from 9 to 29%, 10 to 35% and 7 to 41% for the 2030s, 2060s and 2090s projections, respectively. Moreover, a decrease in extreme river flows (Q5 and Q95) was also found, which implies there could be a decline in flood magnitudes and an increase in drought occurrences throughout the basin. The results of this study provide insight for water resources planning and adaptation strategies for the river ecosystems during the dry season, when water flows are projected to decrease.
Citation
Oeurng C, Cochrane T, Chung S, Kondolf M, Piman T, Arias M Assessing Climate Change Impacts on River Flows in the Tonle Sap Lake Basin, Cambodia. Water. 11(3). 618-618.
This citation is automatically generated and may be unreliable. Use as a guide only.
Keywords
climate change; river flow; Tonle Sap; SWAT model; Lower Mekong
ANZSRC Fields of Research
05 - Environmental Sciences::0501 - Ecological Applications::050101 - Ecological Impacts of Climate Change
31 - Biological sciences::3103 - Ecology::310304 - Freshwater ecology
Rights
© 2019 by the authors. Licensee MDPI, Basel, Switzerland. This article is an open access article distributed under the terms and conditions of the Creative Commons Attribution (CC BY) license (http://creativecommons.org/licenses/by/4.0/).
Related items
Showing items related by title, author, creator and subject.
Arias, M.E.

;

Cochrane, T.A.

(

University of Canterbury. Civil and Natural Resources Engineering

,

2013

)

• The Tonle Sap is the largest wetland and fishery in the Mekong but it is expected to be affected by hydropower and climate change • Landscape-scale spatial distribution of habitats were found to be largely driven by ...

Piman, T.

;

Cochrane, T.A.

;

Arias, M.E.

;

Green, A.

;

Dat, N.D.

(

University of Canterbury. Civil and Natural Resources Engineering

,

2013

)

The Mekong River supports unique biodiversity and provides food security for over sixty million people in the Indo-Burma region, but potential changes to natural flow patterns from hydropower development are a major risk ...

Cochrane, T.A.

;

Piman, T.

;

Arias, M.E.

(

University of Canterbury. Civil and Natural Resources Engineering

,

2013

)