Does the Design of a Robot Influence Its Animacy and Perceived Intelligence?
(2009)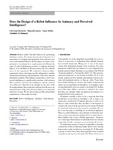 View/Open
Type of Content
Journal Article
Publisher
Springer Nature
ISSN
1875-4791
1875-4805
Language
English
Collections
Authors
Bartneck, C.,
Kanda T,
Mubin O,
Mahmud AA
show all
Abstract
Robots exhibit life-like behavior by performing intelligent actions. To enhance human-robot interaction it is necessary to investigate and understand how end-users perceive such animate behavior. In this paper, we report an experiment to investigate how people perceived different designs of robot embodiments in terms of animacy and intelligence. iCat and Robovie II were used as the two embodiments in this experiment. We conducted a between-subject experiment where robot type was the independent variable, and perceived animacy and intelligence of the robot were the dependent variables. Our findings suggest that a robot's perceived intelligence is significantly correlated with animacy. The correlation between the intelligence and the animacy of a robot was observed to be stronger in the case of the iCat embodiment. Our results also indicate that the more animated the face of the robot, the more likely it is to attract the attention of a user. We also discuss the possible and probable explanations of the results obtained. © The Author(s) 2009.
Citation
Bartneck C, Kanda T, Mubin O, Mahmud AA (2009). Does the Design of a Robot Influence Its Animacy and Perceived Intelligence?. International Journal of Social Robotics. 1(2). 195-204.
This citation is automatically generated and may be unreliable. Use as a guide only.
Keywords
Robot; Intelligence; Animacy; Embodiment; Perception
ANZSRC Fields of Research
08 - Information and Computing Sciences::0806 - Information Systems::080602 - Computer-Human Interaction
08 - Information and Computing Sciences::0801 - Artificial Intelligence and Image Processing::080101 - Adaptive Agents and Intelligent Robotics
17 - Psychology and Cognitive Sciences::1701 - Psychology::170113 - Social and Community Psychology
12 - Built Environment and Design::1203 - Design Practice and Management::120305 - Industrial Design
Rights
This article is distributed under the terms of the Creative Commons Attribution Noncommercial License which permits any noncommercial use, distribution, and reproduction in any medium, provided the original author(s) and source are credited.