Individual differences are more important than the emotional category for the perception of emotional expressions
(2017)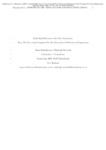 View/Open
Type of Content
Journal Article
Publisher
John Benjamins Publishing Company
ISSN
1572-0373
1572-0381
Language
English
Collections
Authors
Moltchanova E
Bartneck, Christoph
show all
Alternative Title
Individual differences for emotion expressions
Abstract
Emotional facial expression are an important communication channel between artificial characters and their users. Humans are trained to perceive emotions. Robots and virtual agents can use them to make their inner states transparent. Literature reported that some emotional types, such as anger, are perceived as being more intense than others. Other studies indicated that gender influences the perception. Our study shows that once the individual differences amongst participants are included in the statistical analysis, then the emotion type has no further explanatory power. Artificial characters therefore should adapt to their specific users.
Citation
Moltchanova E, Bartneck C (2017). Individual differences are more important than the emotional category for the perception of emotional expressions. Interaction Studies. 18(2). 161-173.
This citation is automatically generated and may be unreliable. Use as a guide only.
Keywords
emotion; expression; gender; individual; differences
ANZSRC Fields of Research
17 - Psychology and Cognitive Sciences::1701 - Psychology::170113 - Social and Community Psychology
08 - Information and Computing Sciences::0806 - Information Systems::080602 - Computer-Human Interaction
08 - Information and Computing Sciences::0801 - Artificial Intelligence and Image Processing::080111 - Virtual Reality and Related Simulation
Related items
Showing items related by title, author, creator and subject.
Suzuki N

;

Bartneck, Christoph

(

ACM

,

2003

)

People, both consciously and unconsciously, use subtle expressions to indirectly communicate their emotions and intentions through variations of the gaze direction, voice tone and gesture speed. People also perceive changes ...

Bartneck, Christoph

;

Takahashi T

;

Katagiri Y

(

2004

)

Avatars play an important role in international online communities. While certain simple expressions, such as facial emotional expressions are cultural independent, more complex expressions might not be. Therefore we ...

Obaid M

;

Dünser A

;

Moltchanova E

;

Cummings D

;

Wagner J

;

Bartneck, Christoph

(

SPRINGER-VERLAG BERLIN

,

2015

)

© IFIP International Federation for Information Processing 2015. This article presents the design and evaluation of novel types of pictorial scales for assessing emotional response based on LEGO Minifigures. We describe ...