Job insecurity and trust: Uncovering a mechanism linking job insecurity to well-being
(2019)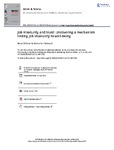 View/Open
Type of Content
Journal Article
Publisher
Informa UK Limited
ISSN
0267-8373
1464-5335
Language
en
Collections
Abstract
© 2018, © 2018 The Author(s). Published by Informa UK Limited, trading as Taylor & Francis Group. Job insecurity has well-documented negative effects for individuals as well as organisations. However, the mechanisms by which job insecurity relates to its outcomes have received less research attention. The purpose of this study is to investigate trust in the organisation as a potential mechanism that may explain why job insecurity relates to two well-documented outcomes: decreased job satisfaction and lowered mental health. These hypotheses were tested in a Swedish longitudinal sample that consists of employees (longitudinal n = 906) from three organisations, using structural equation modelling. Overall, the results showed support for our hypotheses. Our findings reveal an indirect effect of trust on job satisfaction, regardless of whether the previous levels of job satisfaction were controlled for. With regard to mental health, the indirect effect was only evident when previous levels of mental health were not controlled for. The results of this study contribute to our understanding about the intervening factors in the relationship between job insecurity and outcomes. Moreover, the results might be important for human resources departments and managers when there are indications that employees are worrying about the future of their jobs.
Citation
Richter A, Näswall K (2019). Job insecurity and trust: Uncovering a mechanism linking job insecurity to well-being. Work and Stress. 33(1). 22-40.
This citation is automatically generated and may be unreliable. Use as a guide only.
Keywords
Job insecurity; Trust; Mediator
ANZSRC Fields of Research
17 - Psychology and Cognitive Sciences::1701 - Psychology::170107 - Industrial and Organisational Psychology
Rights
© 2018 The Author(s). Published by Informa UK Limited, trading as Taylor & Francis Group This is an Open Access article distributed under the terms of the Creative Commons Attribution-NonCommercial-NoDerivatives License (http://creativecommons.org/licenses/by-nc-nd/4.0/), which permits non-commercial re-use, distribution, and reproduction in any medium, provided the original work is properly cited, and is not altered, transformed, or built upon in any way.