Counting consistent phylogenetic trees is #P-complete
(2004)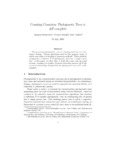 View/Open
Type of Content
Journal Article
Publisher
University of Canterbury. Mathematics and Statistics.
Collections
Authors
Bordewich, M.,
Semple, C.,
Talbot, J.
show all
Abstract
Reconstructing phylogenetic trees is a fundamental task in evolutionary biology. Various algorithms exist for this purpose, many of which come under the heading of `supertree methods'. These methods amalgamate a collection Ρ of phylogenetic trees into a single parent tree. In this paper, we show that, in both the rooted and unrooted settings, counting the number of parent trees that preserve all of the ancestral relationships displayed by the phylogenetic trees in Ρ is #P-complete.
Citation
Bordewich, M., Semple, C., Talbot, J. (2004) Counting consistent phylogenetic trees is #P-complete. Advances in Applied Mathematics, 33, pp. 416-430.
This citation is automatically generated and may be unreliable. Use as a guide only.