Supporting Novices and Advanced Students in Acquiring Multiple Coding Skills
(2018)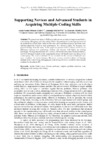 View/Open
Type of Content
Journal Article
Publisher
APSCE
Collections
Authors
Fabic GV
Mitrovic, Antonija
Neshatian, Kourosh
show all
Abstract
We present our study on PyKinetic with various activities to target several skills: code tracing, debugging, and code writing. Half of the participants (control group) received the problems in a fixed order, while for the other half (experimental group) problems were selected adaptively, based on their performance. In a previous paper, we discussed the general findings from the study. In this paper we present further analyses and focus on differences between low performing students and students with higher pre-existing knowledge. We hypothesized that: (H1) novices will benefit more than advanced students, and (H2) advanced students in the experimental group will benefit more than those in the control group. The results confirmed H1 and revealed that this version of PyKinetic was more beneficial for novice learners. Moreover, novices showed evidence of learning multiple skills: code writing, debugging and code tracing. However, we did not have enough evidence for hypothesis H2.
Keywords
mobile Python tutor; Parsons problems; adaptive problem selection; code debugging; code tracing; code writing
ANZSRC Fields of Research
39 - Education::3901 - Curriculum and pedagogy::390102 - Curriculum and pedagogy theory and development
08 - Information and Computing Sciences::0803 - Computer Software
Related items
Showing items related by title, author, creator and subject.
Fabic GVF

;

Mitrovic, Antonija

;

Neshatian, Kourosh

(

2018

)

Mobile devices are increasingly being utilized for learning due to their unique features including portability for providing ubiquitous experiences. In this paper, we present PyKinetic, a mobile tutor we developed for ...

Fabic GVF

;

Mitrovic, Antonija

;

Neshatian, Kourosh

(

Springer Science and Business Media LLC

,

2019

)

The overarching goal of our project is to design effective learning activities for PyKinetic, a smartphone Python tutor. In this paper, we present a study using a variant of Parsons problems we designed for PyKinetic. Parsons ...

Fabic G

;

Mitrovic, Antonija

;

Neshatian, Kourosh

(

Asia-Pacific Society for Computers in Education

,

2017

)

Programming (i.e. coding) is becoming one of the skills expected for successful careers in the knowledge economy1, and is being taught at all levels, including primary and secondary schools. Programming skills are difficult ...