The Environmental Performance of Participatory and Collaborative Governance: A Framework of Causal Mechanisms
(2017)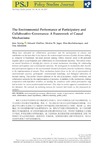 Type of Content
Journal Article
ISSN
0190-292X
Collections
Authors
Newig J
Challies E
Jager NW
Kochskaemper E
Adzersen A
show all
Abstract
Many have advocated for collaborative governance and the participation of citizens and stakeholders on the basis that it can improve the environmental outcomes of public decision making, as compared to traditional, top-down decision making. Others, however, point to the potential negative effects of participation and collaboration on environmental outcomes. This article draws on several literatures to identify five clusters of causal mechanisms describing the relationship between participation and environmental outcomes. We distinguish (i) mechanisms that describe how participation impacts on the environmental standard of outputs, from (ii) mechanisms relating to the implementation of outputs. Three mechanism clusters focus on the role of representation of environmental concerns, participants' environmental knowledge, and dialogical interaction in decision making. Two further clusters elaborate on the role of acceptance, conflict resolution, and collaborative networks for the implementation of decisions. In addition to the mechanisms, linking independent with dependent variables, we identify the conditions under which participation may lead to better (or worse) environmental outcomes. This helps to resolve apparent contradictions in the literature. We conclude by outlining avenues for research that builds on this framework for analysis.
Citation
Newig J, Challies E, Jager NW, Kochskaemper E, Adzersen A The Environmental Performance of Participatory and Collaborative Governance: A Framework of Causal Mechanisms. Policy Studies Journal.
This citation is automatically generated and may be unreliable. Use as a guide only.
Keywords
environmental governance; effectiveness; modes of governance; stakeholder involvement; deliberation; causal hypotheses; collective learning; public policy
ANZSRC Fields of Research
05 - Environmental Sciences::0502 - Environmental Science and Management
16 - Studies in Human Society::1605 - Policy and Administration
Related items
Showing items related by title, author, creator and subject.
Newig J

;

Jager NW

;

Kochskämper E

;

Challies E

(

Informa UK Limited

,

2019

)

Theory on participatory and collaborative governance maintains that learning is essential to achieve good environmental outcomes. Empirical research has mostly produced individual case studies, and reliable evidence on ...

Scott, Karen N.

(

Edward Elgar

,

2016

)

Winstanley A

;

Ahuriri-Driscoll A

;

Hepi M

;

Baker V

;

Foote J

(

Informa UK Limited

,

2016

)

© 2016 ESR. This paper claims that participatory approaches to water resource management in New Zealand are highly influenced by how institutional and community actors understand and practise democracy, including indigenous ...