The sea is rising: Visualising climate change in the Pacific islands
(2018)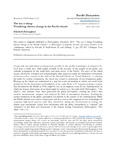 View/Open
Type of Content
Journal Article
Publisher
Macmillan Brown Centre for Pacific Studies
ISSN
2463-641X
Collections
Abstract
I begin with our earth island; a concept made possible by the satellite technologies developed in the Cold War; a battle that, while largely invisible to the majority of the people of the globe, was violently propagated on the small atolls and great ocean of the Pacific. The myth of the island isolate, adapted by ecologists and anthropologists alike, helped to justify the detonation of hundreds of thermonuclear weapons in the atolls of the Marshall Islands and French Polynesia. In selecting the atolls for nuclear detonations, the island was treated as metonymic of our terraqueous globe. Blowing up the island was understood in a part-for-whole relationship in which one could make predictions for the destruction and irradiation of the earth. Bravo, a 15- megaton hydrogen weapon that detonated in the Pacific in 1954, might be seen as an originary event for the Anthropocene, in which the human destruction of an island might be scaled up to the earth itself (DeLoughrey, "The Myth").2 The radiation from Bravo permeated the global atmosphere, creating the world's first modern 'environmental refugees' and catalyzed the field of atmospheric chemistry. Studying the nuclear irradiation of the global atmosphere led directly to the science of the Anthropocene. While the Pacific Islands were used as laboratories and thus were at the vanguard of new technologies of weaponry, high-speed cameras, color film, radiocarbon dating, and developments in ecology, the islands were consistently denied their imbrication with the globe, interpellated as "isolated" and "primitive" in the films and documents of the Atomic Energy Commission (DeLoughrey, "The Myth" 168, 175).
Citation
Meteorologies of modernity: Weather and climate discourses in the Anthropocene, edited by Fekadu, S, Straß-Senol, H, and Döring, T, pp. 237-253. Tübingen: Narr Francke Attempto.
This citation is automatically generated and may be unreliable. Use as a guide only.
Related items
Showing items related by title, author, creator and subject.
Dorevella, Noella

;

Waqa-Sakiti, Hilda

;

Tabe, Tammy

(

Macmillan Brown Centre for Pacific Studies

,

2021

)

Abbott, S.R.

(

University of Canterbury

,

2018

)

My thesis is going to mainly discuss climate change, sustainable development and the European Union's climate change policies within the Pacific region, it will use the Cook Islands as a case study. The context for this ...

Baugh, Brittany Rose

(

2023

)

Climate change is an intersectional issue with implications for the European-Pacific relationship. The Strategy for the Blue Pacific Continent marked an autonomous step forward for the Pacific in determining its place on ...