Begomovirus-associated satellite DNA diversity captured through vector-enabled metagenomic (VEM) surveys using whiteflies (Aleyrodidae)
(2016)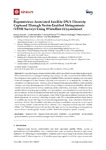 View/Open
Type of Content
Journal Article
Publisher
University of Canterbury. Biological Sciences
University of Canterbury. Biomolecular Interaction Centre
Authors
Rosario, K.
Marr, C.
Varsani, A.
Kraberger, S.
Stainton, D.
Moriones, E.
Polston, J.E.
Breitbart, M.
show all
Abstract
Monopartite begomoviruses (Geminiviridae), which are whitefly-transmitted single-stranded DNA viruses known for causing devastating crop diseases, are often associated with satellite DNAs. Since begomovirus acquisition or exchange of satellite DNAs may lead to adaptation to new plant hosts and emergence of new disease complexes, it is important to investigate the diversity and distribution of these molecules. This study reports begomovirus-associated satellite DNAs identified during a vector-enabled metagenomic (VEM) survey of begomoviruses using whiteflies collected in various locations (California (USA), Guatemala, Israel, Puerto Rico, and Spain). Protein-encoding satellite DNAs, including alphasatellites and betasatellites, were identified in Israel, Puerto Rico, and Guatemala. Novel alphasatellites were detected in samples from Guatemala and Puerto Rico, resulting in the description of a phylogenetic clade (DNA-3-type alphasatellites) dominated by New World sequences. In addition, a diversity of small (~640–750 nucleotides) satellite DNAs similar to satellites associated with begomoviruses infecting Ipomoea spp. were detected in Puerto Rico and Spain. A third class of satellite molecules, named gammasatellites, is proposed to encompass the increasing number of reported small (<1 kilobase), non-coding begomovirus-associated satellite DNAs. This VEM-based survey indicates that, although recently recovered begomovirus genomes are variations of known genetic themes, satellite DNAs hold unexplored genetic diversity.
Citation
Rosario, K., Marr, C., Varsani, A., Kraberger, S., Stainton, D., Moriones, E., Polston, J.E. and Breitbart, M. (2016) Begomovirus-associated satellite DNA diversity captured through vector-enabled metagenomic (VEM) surveys using whiteflies (Aleyrodidae). Viruses, 8, pp. e36.
This citation is automatically generated and may be unreliable. Use as a guide only.
Keywords
begomovirus; begomovirus-associated satellites; alphasatellites; betasatellites; gammasatellites; Ipomoea satellites; metagenomics; whitefly; vector; ssDNA
ANZSRC Fields of Research
31 - Biological sciences::3107 - Microbiology::310706 - Virology
06 - Biological Sciences::0604 - Genetics::060411 - Population, Ecological and Evolutionary Genetics
06 - Biological Sciences::0607 - Plant Biology::060704 - Plant Pathology
Rights
© 2016 by the authors; licensee MDPI, Basel, Switzerland. This article is an open access article distributed under the terms and conditions of the Creative Commons by Attribution (CC-BY) license (http://creativecommons.org/licenses/by/4.0/).
Related items
Showing items related by title, author, creator and subject.
Baker CCM

;

Cassill DL

;

Storer C

;

Varsani A

;

Breitbart M

;

Rosario K

;

Mettel K

;

Benner BE

;

Johnson R

;

Scott C

;

Yusseff-Vanegas, SZ

(

2018

)

© 2018 Rosario et al. Viruses encoding a replication-associated protein (Rep) within a covalently closed, single-stranded (ss)DNA genome are among the smallest viruses known to infect eukaryotic organisms, including ...

Bernardo P

;

Charles-Dominique T

;

Barakat M

;

Ortet P

;

Fernandez E

;

Filloux D

;

Hartnady P

;

Rebelo TA

;

Cousins SR

;

Mesleard F

;

Cohez D

;

Yavercovski N

;

Varsani A

;

Harkins GW

;

Peterschmitt M

;

Malmstrom CM

;

Martin DP

;

Roumagnac P

(

2018

)

© 2018 International Society for Microbial Ecology All rights reserved. Disease emergence events regularly result from human activities such as agriculture, which frequently brings large populations of genetically uniform ...

Stenzel T

;

Dziewulska D

;

Muhire BM

;

Hartnady P

;

Kraberger S

;

Martin DP

;

Varsani A

(

2018

)

© 2018 by the authors. Licensee MDPI, Basel, Switzerland. Circoviruses are circular single-stranded DNA (ssDNA) viruses that infect a variety of animals, both domestic and wild. Circovirus infection in birds is associated ...