A glance into the future of transformers...and beyond
(2005)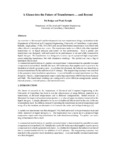 View/Open
Type of Content
Conference Contributions - Other
Publisher
University of Canterbury. Electrical and Computer Engineering.
Collections
Authors
Bodger, P.S.,
Enright, W.E.
show all
Abstract
An overview of the research and developments into new transformer design, undertaken in the Department of Electrical and Computer Engineering, University of Canterbury, is presented. Initially, single phase, 50 Hz, l1/0.23kV pole mount distribution transformers were fitted with either silicon or amorphous steel cores. The transformer tanks were filled with either standard transformer oil or liquid nitrogen and tested for loss performance. Next a partial core transformer was designed, built and tested for its performance in air and while immersed in liquid nitrogen. The transformer was designed as a mock up of a proposed high temperature superconducting transformer, but with aluminium windings. The partial core was a slug of laminated silicon steel. A commercial manifestation of a partial core transformer is demonstrated in a parallel resonant compensation test method. Initially this uses a HV inductance that supplies reactive power to the insulation of a hydro generator stator. As a further development, the inductor was turned into a resonant transformer by the addition of a LV primary. The magnetising reactance was matched to the generator stator insulation capacitance. A second tunable resonant transformer was then designed. Finally, a high temperature super-conducting transformer (HTST) has been designed and built. The transformer windings are configured to allow different arrangements, namely internal primary, external primary and autotransformer.
Citation
Bodger, P.S., Enright, W.E. (2005) A glance into the future of transformers...and beyond. Methven, New Zealand: AVO New Zealand, Fourth International Technical, 20-22 April.
This citation is automatically generated and may be unreliable. Use as a guide only.