Son-preference declining gradually and daughter's status increasing among the urban middle-class in North India: A new research suggests
(2018)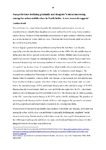 View/Open
Type of Content
Journal Article
Publisher
Project Monma Research Centre
ISSN
2463-2945
Abstract
Son-preference is a major form of gender discrimination against women as sons are considered more valuable than daughters at a socio-cultural level. In many Asian countries such as Korea, Vietnam, China and India son-preference is quite common which has resulted in a severe decline of female child sex-ratio. China has the lowest female child sex-ratio in the world followed by India.India is largely a patriarchal and patrilineal society but in the last three-four decades, especially, after the introduction of neoliberal policies in the 1980s-90s, the middle-class in urban areas has shown upward social and economic mobility. Middle-class is undergoing rapid socio-cultural changes in contemporary India, for instance, female literacy rates have increased dramatically and increasing numbers of women have entered the paid workforce.
Rights
Creative Commons Attribution 4.0 International License.
Except where otherwise noted, this item's license is described as Creative Commons Attribution 4.0 International License.
Related items
Showing items related by title, author, creator and subject.
Pomeroy D

;

Anthony G

(

2019

)

Kim HC

;

Nicholson A

;

Kusumastuti D

(

Elsevier

,

2017

)

© 2017 The Authors. Published by Elsevier B.V. This paper describes a study to improve understanding of the decision-making process of New Zealand firms, freight shippers and agents when making freight transport mode choice ...

Veerasamy, A.

;

Kirk, R.

;

Gage, J.

(

University of Canterbury. School of Health Sciences

,

2016

)

Objective Economic and dietary changes in the Indian state of Tamil Nadu have led to compromised oral health status of the adolescent population. Adequate epidemiological data are not available to address the prevention ...