Investigation of the solubility of olivine for use in carbon dioxide storage
(2018)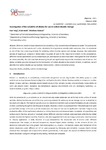 View/Open
Type of Content
Conference Contributions - Published
Collections
Abstract
Olivine is present in large amountsin nature and has a high concentration of magnesium oxide. The carbonation of olivine occurs via the reaction with carbon dioxide by forming environmentally stable carbonate, thus it is considered as one of the most promising minerals for achieving carbon dioxide capture and storage. However, the carbonation process of magnesium products in olivine takes thousands of years in the natural environment. In this presentation, different reaction parameters such as temperature, pH, and reaction duration have been investigated for their influence on olivine solubility. We will show that decreasing the pH can significantly improve the dissolution rate of olivine. The olivine solubility was also increased by the introduction of carbon dioxide to the solution directly. In addition, we will describe how carbon dioxide was successfully mineralized by a direct carbonation process.
Keywords
olivine; solubility; carbon dioxide storage
ANZSRC Fields of Research
04 - Earth Sciences::0403 - Geology::040306 - Mineralogy and Crystallography
34 - Chemical sciences::3405 - Organic chemistry::340503 - Organic chemical synthesis
34 - Chemical sciences::3406 - Physical chemistry::340608 - Solution chemistry
Related items
Showing items related by title, author, creator and subject.
Horvath SP

;

Wells J-PR

;

Reid MF

;

Yamaga M

;

Honda M

(

2018

)

We present a comprehensive spectroscopic study of C2v point-group symmetry sites in Sm3+:CaF2/SrF2 codoped with either NaF or LiF. Data includes electron paramagnetic resonance measurements of Zeeman and hyperfine ...

Bodman SE

;

Burney AM

;

Hughes CD

;

McNeill, Alexandra

;

Crittenden, Deborah

(

American Chemical Society (ACS)

,

2020

)

Organic redox flow batteries are currently the focus of intense scientific interest because they have the potential to be developed into low-cost, environmentally sustainable solutions to the energy storage problem that ...

Khan W

;

Baharudin L

;

Choi J

;

Yip ACK

(

2020

)

The conversion of carbon monoxide and hydrogen, generally called synthesis gas, to higher alcohols has gained recent attention. Alcohols can be either transformed into other value-added products such as ethers or used ...