Stratospheric ozone loss over the Eurasian continent induced by the polar vortex shift
(2018)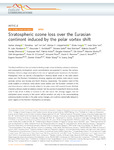 View/Open
Type of Content
Journal Article
ISSN
2041-1723
Collections
Authors
Zhang J,
Tian W,
Xie F,
Chipperfield M,
Feng W,
Son S-W,
Abraham NL,
Archibald AT,
Bekki S,
Butchart N,
Deushi M,
Dhomse S,
Han Y,
Jöckel P,
Kinnison D,
Kirner O,
Michou M,
Morgenstern O,
O'Connor F,
Pitari G,
Plummer D,
Revell LE,
Rozanov E,
Visioni D,
Wang W,
Zeng G
show all
Abstract
The Montreal Protocol has succeeded in limiting major ozone-depleting substance emissions, and consequently stratospheric ozone concentrations are expected to recover this century. However, there is a large uncertainty in the rate of regional ozone recovery in the Northern Hemisphere. Here we identify a Eurasia-North America dipole mode in the total column ozone over the Northern Hemisphere, showing negative and positive total column ozone anomaly centres over Eurasia and North America, respectively. The positive trend of this mode explains an enhanced total column ozone decline over the Eurasian continent in the past three decades, which is closely related to the polar vortex shift towards Eurasia. Multiple chemistry-climate-model simulations indicate that the positive Eurasia-North America dipole trend in late winter is likely to continue in the near future. Our findings suggest that the anticipated ozone recovery in late winter will be sensitive not only to the ozone-depleting substance decline but also to the polar vortex changes, and could be substantially delayed in some regions of the Northern Hemisphere extratropics.
ANZSRC Fields of Research
04 - Earth Sciences::0401 - Atmospheric Sciences::040108 - Tropospheric and Stratospheric Physics
04 - Earth Sciences::0401 - Atmospheric Sciences::040105 - Climatology (excl. Climate Change Processes)
Rights
Open Access This article is licensed under a Creative Commons Attribution 4.0 International License, which permits use, sharing, adaptation, distribution and reproduction in any medium or format, as long as you give appropriate credit to the original author(s) and the source, provide a link to the Creative Commons license, and indicate if changes were made. The images or other third party material in this article are included in the article's Creative Commons license, unless indicated otherwise in a credit line to the material. If material is not included in the article's Creative Commons license and your intended use is not permitted by statutory regulation or exceeds the permitted use, you will need to obtain permission directly from the copyright holder. To view a copy of this license, visit http://creativecommons.org/ licenses/by/4.0/.