Method for Recovery and Immunoaffinity Enrichment of Membrane Proteins Illustrated with Metastatic Ovarian Cancer Tissues
(2012)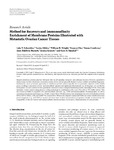 View/Open
Type of Content
Journal Article
ISSN
2090-2166
2090-2174
Collections
Authors
Schneider L
Likhte V
Wright W
Chu F
Cambron E
Baldwin-Burnett A
Krakow J
Smejkal G
show all
Abstract
Integral membrane proteins play key biological roles in cell signaling, transport, and pathogen invasion. However, quantitative clinical assays for this critical class of proteins remain elusive and are generally limited to serum-soluble extracellular fragments. Furthermore, classic proteomic approaches to membrane protein analysis typically involve proteolytic digestion of the soluble pieces, resulting in separation of intra- and extracellular segments and significant informational loss. In this paper, we describe the development of a new method for the quantitative extraction of intact integral membrane proteins (including GPCRs) from solid metastatic ovarian tumors using pressure cycling technology in combination with a new (ProteoSolve-TD) buffer system. This new extraction buffer is compatible with immunoaffinity methods (e.g., ELISA and immunoaffinity chromatography), as well as conventional proteomic techniques (e.g., 2D gels, western blots). We demonstrate near quantitative recovery of membrane proteins EDG2, EDG4, FASLG, KDR, and LAMP-3 by western blots. We have also adapted commercial ELISAs for serum-soluble membrane protein fragments (e.g., sVEGFR2) to measure the tissue titers of their transmembrane progenitors. Finally, we demonstrate the compatibility of the new buffers with immunoaffinity enrichment/mass spectrometric characterization of tissue proteins.
ANZSRC Fields of Research
11 - Medical and Health Sciences::1112 - Oncology and Carcinogenesis::111201 - Cancer Cell Biology
32 - Biomedical and clinical sciences::3208 - Medical physiology::320801 - Cell physiology
32 - Biomedical and clinical sciences::3205 - Medical biochemistry and metabolomics::320506 - Medical biochemistry - proteins and peptides (incl. medical proteomics)
Rights
Copyright © 2012 Luke V. Schneider et al. This is an open access article distributed under the Creative Commons Attribution License, which permits unrestricted use, distribution, and reproduction in any medium, provided the original work is properly cited.
Related items
Showing items related by title, author, creator and subject.
Liko I

;

Degiacomi MT

;

Lee S

;

Newport TD

;

Gault J

;

Reading E

;

Hopper JTS

;

Housden NG

;

White P

;

Colledge M

;

Sula A

;

Wallace BA

;

Kleanthous C

;

Stansfeld PJ

;

Bayley H

;

Benesch JLP

;

Allison TM

;

Robinson CV

(

2018

)

© 2018 National Academy of Sciences. All Rights Reserved. Strong interactions between lipids and proteins occur primarily through association of charged headgroups and amino acid side chains, rendering the protonation ...

Yen HY

;

Hopper JTS

;

Liko I

;

Allison TM

;

Zhu Y

;

Wang D

;

Stegmann M

;

Mohammed S

;

Wu B

;

Robinson CV

(

2017

)

Copyright © 2017 The Authors, some rights reserved. G protein (heterotrimeric guanine nucleotide–binding protein)–coupled receptors belong to the largest family of membrane-embedded cell surface proteins and are involved ...

Dowding S

;

Zakkaroff C

;

Moore S

;

David T

(

2018

)

© 2018 Frontiers Media S.A.All right reserved. This work investigates the effect of arterial bifurcation angulation on atherosclerosis development through in-silico simulations of coupled cell dynamics. The computational ...