The Value of Alternative Geophysical Methods in Determining Shear Wave Profiles for Critical Infrastructure
(2015)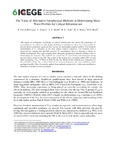 View/Open
Type of Content
Journal Article
Collections
Authors
Tallet-Williams S
Fenton CH
Booth AD
Clark RA
Raines MG
Ward D
show all
Abstract
The impact of earthquakes worldwide on critical infrastructure has shown the importance of accounting for site effects in safe design. Including comprehensive shear wave (Vs) profiles in ground motion prediction equations has become an increasingly popular method. Yet, borehole measurement of Vs velocities in the near surface remains expensive. For locations with a perceived low seismic risk and little previous Vs investigation, this cost becomes a barrier to further development. This study examines three alternative geophysical methods and their value to determining site response. The methods are carried out at a previously uncharacterised strong ground motion station in the UK. The results of the testing were consistent within 10% of each other, producing a Vs30 of 570ms ± 30ms for the site. Moreover the methods give indications of the variability of the site, a lower limit of the resonant frequency and clear validation of the geological profile. Thus, if correctly applied, these methods can provide a viable and cost-effective alternative to purely invasive techniques.
ANZSRC Fields of Research
40 - Engineering::4005 - Civil engineering::400506 - Earthquake engineering
40 - Engineering::4005 - Civil engineering::400502 - Civil geotechnical engineering
Related items
Showing items related by title, author, creator and subject.
McGann CR

;

Bradley, Brendon

;

Cubrinovski M

(

University of Canterbury, Christchurch, New Zealand

,

2015

)

This report summarizes the development of a region-wide surficial soil shear wave velocity (Vs ) model based on the unique combination of a large high-spatial-density database of cone penetration test (CPT) logs in the ...

Teague, D.

;

Cox, B.R.

;

Bradley, Brendon

;

Wotherspoon, L.M.

(

University of Canterbury. Civil and Natural Resources Engineering

,

2015

)

Deep shear wave velocity (Vs) profiles (>400 m) were developed at 14 sites throughout Christchurch, New Zealand using surface wave methods. This paper focuses on the inversion of surface wave data collected at one of ...

Cappellaro C

;

Cubrinovski M

;

Chiaro G

;

Stringer M

;

Bray J

;

Riemer M

(

2019

)

Results from cyclic undrained direct simple shear tests on reconstituted specimens of two sands from Christchurch are compared against the liquefaction resistance inferred from CPT-based empirical liquefaction triggering ...