Geological and geotechnical investigation of Eureka bend, SH60, Takaka hill, New Zealand
(2008)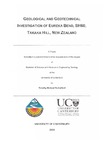 View/Open
Type of Content
Electronic Thesis or Dissertation
Thesis Discipline
Engineering Geology
Degree Name
Bachelor of Science (Hons)
Publisher
University of Canterbury
Language
English
Collections
Authors
Rutherford, Timothy Michael
show all
Abstract
The section of State Highway 60 that negotiates the western side of Takaka Hill has been subject to various instability issues over its lifespan, including colluvium landslides, planar failures in bedrock and fill collapses. As it is the only road into and out of Golden Bay it is imperative that it remains open as a means of access for residents and tourists alike.
Eureka Bend is a tight switchback corner on State Highway 60 near the bottom of Takaka Hill. It has been subjected to various types of historic instability and a recent failure within the road base that closed the road to one lane has required consideration of remediation options. GHD New Zealand have proposed to remove the weak fill and replace it with a reinforced earth embankment. They have also proposed to widen the turning radius of Eureka Bend to 15 m so that heavy vehicles may negotiate the corner without crossing the centreline. This would involve cutting into a 'block' of limestone that dips in a different direction compared to nearby limestone outcrops, and it is a detailed investigation into the local geology of the site and geotechnical assessment of the 'block' that is the subject of this project.
Field investigations involved collection of scanline data and rock samples for laboratory analysis, and general engineering geology observations of the study area. This data were analysed and a geological map of the area was created, along with kinematic analysis of the current cut face stability, rockfall analysis, and rock mechanics assessment involving point load and slake durability testing. Coupled with a literature review of previous work done in the area, conclusions were able to be made regarding the setting of the limestone 'block' and the design considerations that must be taken into account before any widening of the corner can commence.
From the analysis of the data collected, it is concluded that the limestone 'block' is not in-situ based on field observations that show its bedding clearly dips in a significantly different direction to limestone that is clearly in-situ to the north. The analysis of the current face shows that it is stable in its current setting, and various design scenarios have been analysed using the surface data available. The rock mechanics testing suggested that both the limestone and the marble are strong enough and durable enough for use as fill, and also to stand in the proposed cut face to realistic heights in the absence of penetrative daylighting defects.
Rights
All Rights Reserved