The Tabligh Jama'at and Islamic revivalism in Fiji
(2018)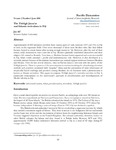 View/Open
Type of Content
Journal Article
Publisher
Macmillan Brown Centre for Pacific Studies
ISSN
2463-641X
Collections
Abstract
Approximately 60,000 labourers travelled from various parts of India between 1879 and 1916 to Fiji to work in the sugarcane fields. Over seven thousand of these were Muslims who, like their fellow Indians, hoped to return home after earning enough money in Fiji. However, after the end of their tenure, some remained to start a new life in Fiji. Muslims gradually established themselves and their religious life started to flourish. Over time, as Muslims became better organised and more resourceful in Fiji, Islam slowly assumed a public and institutionalised role. However, it also developed in a syncretic manner because of the intimate interactions and mutual support structures between Muslims and Hindus. Over the last several decades, Islam in Fiji has taken a new turn with the arrival of the Tabligh Jama'at. There is a process of de-syncretisation in motion involving the abandoning of certain symbols and practices associated with "popular" Islam and the promotion of strict observance of scripturally based teachings and practices among Muslims. In the literature such a phenomenon is known as Islamic revivalism. This paper investigates Tabligh Jama'at's revivalist activities in Fiji. It particularly concentrates on the movement's approach to proselytisation and reconfiguration of Muslim identity in Fiji.
Keywords
Tabligh Jama'at; revivalism; proselytisation; Islam; indentured system
Related items
Showing items related by title, author, creator and subject.
Morey, C. W.

(

University of Canterbury. Forestry

,

1982

)

This is a study of relative demand for the ten, top selling products, of sawntimber and of posts and poles, (principally Pinus caribaea) supplied from the Fiji Pine Commission's timberyard at Drasa to local markets. It is ...

Boyce, Valerie

(

University of Canterbury. National Centre for Research on Europe

,

2009

)

Enlargement of the European Union (EU) coupled with immigration and rising transnational flows of people has led to increased contact between different cultures, religions, ethnic groups and diverse languages. Historically, ...

Huzen, Kent Bob

(

University of Canterbury. Social and Political Sciences

,

2008

)

This thesis argues among other things, That the concept of jihad, which represents a form of striving and endeavour-often misinterpreted in the literature as 'holy war'- is rooted in the Qur'anic ideals and interpretations ...