A Test Circuit for Long Distance Directional Plasma Discharge Using the Exploding Wire Technique
(2007)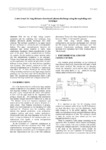 View/Open
Type of Content
Conference Contributions - Published
Publisher
University of Canterbury. Electrical and Computer Engineering.
Collections
Authors
Smith, D.W.R.,
Enright, E.,
Bodger, P.S.
show all
Abstract
With the use of high voltage impulse equipment and the exploding wire technique, long distance directional plasma discharges have been achieved. The methods described in this paper allows for such discharges in a relatively safe and dependable fashion. This paper comprehensively describes the equipment and circuits required to repeat these experiments. Equipment design considerations are also given in the paper. Special considerations to earthing are required for this method to ensure operator safety and that measurement equipment is not damaged. Voltage waveforms and other data have been collected via the experiments; the results and procedures are quite different to those found in the short distance exploding wire literature. The research conducted at UoC has allowed for discharges up to 70 meters in length using only 60kV DC. In these discharges the various high voltage switching mechanisms and high energy impulse generators that have been used will be described in this paper. The measurement instrumentation which is able to measure the large currents and voltages is described.
Citation
Smith, D.W.R., Enright, E., Bodger, P.S. (2007) A Test Circuit for Long Distance Directional Plasma Discharge Using the Exploding Wire Technique. Ljubljana, Slovenia: 15th International Symposium on High Voltage Engineering (ISH), 27-31 Aug 2007.
This citation is automatically generated and may be unreliable. Use as a guide only.