AC High Potential Testing of Large Hydro-Generator Stators Using Open Core Transformers
(2007)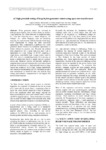 View/Open
Type of Content
Conference Contributions - Published
Publisher
University of Canterbury. Electrical and Computer Engineering.
Collections
Authors
Bendre, V.D.,
Bell, S.,
Enright, W.,
Bodger, P.S.
show all
Abstract
When generator stators are rewound or undergo major repairs, there is often a desire to perform a high potential test. These tests can be completed using d.c., very low frequency or a.c. power frequency test voltages. A.c. power frequency tests are becoming common, but such test are difficult because of the large kVAr requirement to charge the stator insulation capacitance. This is particularly a problem with hydro generator stators because the insulation capacitance is further inflated by physical size. Recently the authors were required to test a stator with just over 1 μF in capacitance to a test voltage of 32 kV, requiring a single-phase controllable high voltage source rated to 286 kVAr prior to considering losses. It is not easy to locate a distribution board to supply this at a power-station site. Resonant circuits are normally applied to complete these tests and minimise the distribution board loadings. In traditional a.c. high potential test sets, large variacs are employed with a high voltage transformer and numerous compensating coils. In this paper an open core transformer is described that can provide high voltage and inductive compensation in an original and most compact manner.
Citation
Bendre, V.D, Bell, S., Enright, W., Bodger, P.S. (2007) AC High Potential Testing of Large Hydro-Generator Stators Using Open Core Transformers. Ljubljana, Slovenia: 15th International Symposium on High Voltage Engineering (ISH), 27-31 August.
This citation is automatically generated and may be unreliable. Use as a guide only.