Cofactor Tail Length Modulates Catalysis of Bacterial F420-Dependent Oxidoreductases
(2017)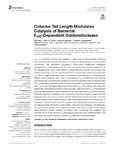 View/Open
Type of Content
Journal Article
ISSN
1664-302X
Authors
Ney B
Carere CR
Sparling R
Jirapanjawat T
Stott MB
Jackson CJ
Oakeschott JG
Warden AC
Greening C
show all
Abstract
F420 is a microbial cofactor that mediates a wide range of physiologically important and industrially relevant redox reactions, including in methanogenesis and tetracycline biosynthesis. This deazaflavin comprises a redox-active isoalloxazine headgroup conjugated to a lactyloligoglutamyl tail. Here we studied the catalytic significance of the oligoglutamate chain, which differs in length between bacteria and archaea. We purified short-chain F420 (two glutamates) from a methanogen isolate and long-chain F420 (five to eight glutamates) from a recombinant mycobacterium, confirming their different chain lengths by HPLC and LC/MS analysis. F420 purified from both sources was catalytically compatible with purified enzymes from the three major bacterial families of F420-dependent oxidoreductases. However, long-chain F420 bound to these enzymes with a six- to ten-fold higher affinity than short-chain F420. The cofactor side chain also significantly modulated the kinetics of the enzymes, with long-chain F420 increasing the substrate affinity (lower Km) but reducing the turnover rate (lower kcat) of the enzymes. Molecular dynamics simulations and comparative structural analysis suggest that the oligoglutamate chain of F420 makes dynamic electrostatic interactions with conserved surface residues of the oxidoreductases while the headgroup binds the catalytic site. In conjunction with the kinetic data, this suggests that electrostatic interactions made by the oligoglutamate tail result in higher-affinity, lower-turnover catalysis. Physiologically, we propose that bacteria have selected for long-chain F420 to better control cellular redox reactions despite tradeoffs in catalytic rate. Conversely, this suggests that industrial use of shorter-length F420 will greatly increase the rates of bioremediation and biocatalysis processes relying on purified F420-dependent oxidoreductases.
Citation
Ney B, Carere CR, Sparling R, Jirapanjawat T, Stott MB, Jackson CJ, Oakeschott JG, Warden AC, Greening C (2017). Cofactor Tail Length Modulates Catalysis of Bacterial F420-Dependent Oxidoreductases. Frontiers in Microbiology. 8(1902).
This citation is automatically generated and may be unreliable. Use as a guide only.
Keywords
F420; redox; biocatalysis; biodegradation; mycobacterium; actinobacteria; cofactor
ANZSRC Fields of Research
31 - Biological sciences::3101 - Biochemistry and cell biology::310101 - Analytical biochemistry
03 - Chemical Sciences::0304 - Medicinal and Biomolecular Chemistry::030401 - Biologically Active Molecules
31 - Biological sciences::3106 - Industrial biotechnology::310601 - Biocatalysis and enzyme technology
31 - Biological sciences::3107 - Microbiology::310701 - Bacteriology
Related items
Showing items related by title, author, creator and subject.
Jiao W

;

Blackmore NJ

;

Nazmi AR

;

Parker EJ

(

2017

)

The first enzyme of the shikimate pathway, 3-deoxy-D-arabino-heptulosonate 7-phosphate synthase (DAH7PS), adopts a range of distinct allosteric regulation mechanisms in different organisms, related to different quaternary ...

Yen HY

;

Hopper JTS

;

Liko I

;

Allison TM

;

Zhu Y

;

Wang D

;

Stegmann M

;

Mohammed S

;

Wu B

;

Robinson CV

(

2017

)

Copyright © 2017 The Authors, some rights reserved. G protein (heterotrimeric guanine nucleotide–binding protein)–coupled receptors belong to the largest family of membrane-embedded cell surface proteins and are involved ...

Liko I

;

Degiacomi MT

;

Lee S

;

Newport TD

;

Gault J

;

Reading E

;

Hopper JTS

;

Housden NG

;

White P

;

Colledge M

;

Sula A

;

Wallace BA

;

Kleanthous C

;

Stansfeld PJ

;

Bayley H

;

Benesch JLP

;

Allison TM

;

Robinson CV

(

2018

)

© 2018 National Academy of Sciences. All Rights Reserved. Strong interactions between lipids and proteins occur primarily through association of charged headgroups and amino acid side chains, rendering the protonation ...