Hard rock tunnel boring machine penetration test as an indicator of chipping process efficiency
(2017)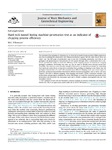 View/Open
Type of Content
Journal Article
ISSN
1674-7755
Collections
Abstract
© 2017 Institute of Rock and Soil Mechanics, Chinese Academy of Sciences. The transition from grinding to chipping can be observed in tunnel boring machine (TBM) penetration test data by plotting the penetration rate (distance/revolution) against the net cutter thrust (force per cutter) over the full range of penetration rates in the test. Correlating penetration test data to the geological and geomechanical characteristics of rock masses through which a penetration test is conducted provides the ability to reveal the efficiency of the chipping process in response to changing geological conditions. Penetration test data can also be used to identify stress-induced tunnel face instability. This research shows that the strength of the rock is an important parameter for controlling how much net cutter thrust is required to transition from grinding to chipping. It also shows that the geological characteristics of a rock will determine how efficient chipping occurs once it has begun. In particular, geological characteristics that lead to efficient fracture propagation, such as fabric and mica contents, will lead to efficient chipping. These findings will enable a better correlation between TBM performance and geological conditions for use in TBM design, as a basis for contractual payments where penetration rate dominates the excavation cycle and in further academic investigations into the TBM excavation process.
Citation
Villeneuve MC (2017). Hard rock tunnel boring machine penetration test as an indicator of chipping process efficiency. Journal of Rock Mechanics and Geotechnical Engineering.
This citation is automatically generated and may be unreliable. Use as a guide only.
Keywords
penetration rate; grinding; chipping; geological characteristics; face stability
ANZSRC Fields of Research
40 - Engineering::4005 - Civil engineering::400502 - Civil geotechnical engineering
37 - Earth sciences::3705 - Geology::370599 - Geology not elsewhere classified
Rights
This is an open access article under the CC BYNC- ND license (http://creativecommons.org/licenses/by-nc-nd/4.0/). Share — copy and redistribute the material in any medium or format The licensor cannot revoke these freedoms as long as you follow the license terms. Under the following terms: Attribution — You must give appropriate credit, provide a link to the license, and indicate if changes were made. You may do so in any reasonable manner, but not in any way that suggests the licensor endorses you or your use. NonCommercial — You may not use the material for commercial purposes. NoDerivatives — If you remix, transform, or build upon the material, you may not distribute the modified material. No additional restrictions — You may not apply legal terms or technological measures that legally restrict others from doing anything the license permits.
Related items
Showing items related by title, author, creator and subject.
Tunnel boring machine (TBM) penetration tests entail incrementally increasing TBM thrust from full stop to maximum speed and recording the penetration rate either at set thrust levels or at set times. TBM penetration test ...

Bowen HJ

;

Ashby GL

;

Stringer ME

(

2015

)

A potential development site in Central Otago, New Zealand, is situated on alluvial sediments that comprise very soft to soft low plasticity silts. Liquefaction prediction methods using CPT, SPT and conventional laboratory ...

Johannsen L

;

Balenovic N

;

Strauss P

;

Dosta T

;

Neumann M

;

Zumr D

;

Klik A

;

Cochrane, Thomas

(

Informa UK Limited

,

2019

)

Optical disdrometers can be used to estimate rainfall erosivity; however, the relative accuracy of different disdrometers is unclear. This study compared three types of optical laser-based disdrometers to quantify differences ...