Additive Manufacturing of Catalyst Substrates for Steam–Methane Reforming
(2017)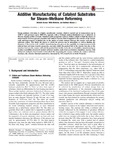 View/Open
Type of Content
Journal Article
Collections
Authors
Kramer M,
McKelvie M,
Watson MJ
show all
Abstract
Steam–methane reforming is a highly endothermic reaction, which is carried out at temperatures up to 1100 C and pressures up to 3000 kPa, typically with a Ni-based catalyst distributed over a substrate of discrete alumina pellets or beads. Standard pellet geometries (spheres, hollow cylinders) limit the degree of mass transfer between gaseous reactants and catalyst. Further, heat is supplied to the exterior of the reactor wall, and heat transfer is limited due to the nature of point contacts between the reactor wall and the substrate pellets. This limits the degree to which the process can be intensified, as well as limiting the diameter of the reactor wall. Additive manufacturing now gives us the capability to design structures with tailored heat and mass transfer properties, not only within the packed bed of the reactor, but also at the interface between the reactor wall and the packed bed. In this work, the use of additive manufacturing to produce monolithic-structured catalyst substrate models, made from acrylonitrile–butadiene–styrene, with enhanced conductive heat transfer is described. By integrating the reactor wall into the catalyst substrate structure, the effective thermal conductivity increased by 34% from 0.122 to 0.164 W/(m K).
Citation
Kramer M, McKelvie M, Watson MJ (2017). Additive Manufacturing of Catalyst Substrates for Steam–Methane Reforming. Journal of Materials Engineering and Performance.
This citation is automatically generated and may be unreliable. Use as a guide only.
Keywords
monolith; heat transfer; water gas shift; industrial reactor
ANZSRC Fields of Research
09 - Engineering::0904 - Chemical Engineering::090403 - Chemical Engineering Design
09 - Engineering::0904 - Chemical Engineering::090402 - Catalytic Process Engineering
09 - Engineering::0910 - Manufacturing Engineering::091006 - Manufacturing Processes and Technologies (excl. Textiles)
09 - Engineering::0915 - Interdisciplinary Engineering::091505 - Heat and Mass Transfer Operations
09 - Engineering::0912 - Materials Engineering::091209 - Polymers and Plastics
09 - Engineering::0912 - Materials Engineering::091201 - Ceramics
Rights
Open Access This article is distributed under the terms of the Creative Commons Attribution 4.0 International License (http://creativecommons.org/licenses/by/4.0/), which permits unrestricted use, distribution, and reproduction in any medium, provided you give appropriate credit to the original author(s) and the source, provide a link to the Creative Commons license, and indicate if changes were made.