Education, colonisation and Kanak aspirations in New Caledonia: Historical contexts and contemporary challenges
(2017)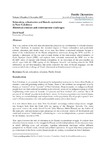 View/Open
Type of Content
Journal Article
Publisher
Macmillan Brown Centre for Pacific Studies
Collections
Abstract
This is an analysis of the role that education has played in the development of colonial relations in New Caledonia. It examines the historical impact of French colonialism and particularly colonial education, and details some of the ways that Kanak educational resistance became a focus of the radicalisation of the Kanak indepedence movement during the 1970s and 80s. It includes a discussion of the rise and eventual demise of the independent school initiative, les Ecoles Populaires Kanak (EPK), and explains how intimately connected the EPK was to the FLNKS policy of rupture with French colonialism. In its discussion of the post-conflict era which began with the 1988 signing of the Matignon Accords and looking towards the 2018 referendum on self-determination, this article considers the state of Kanak languages and the extent to which the challenge of Kanak educational underachievement is being met.
Keywords
French; Pacific; colonialism; Kanak; Education
Related items
Showing items related by title, author, creator and subject.
New Caledonia is an anomoly. Surrounded by independent nations in the South-West Pacific, it remains a non-self governing territory of France. Some of the residents are recognised, even by France, as "citizens" of the ...

This paper is a study of Kanak education in New Caledonia. It traces the history of French educational policy and practice towards Kanaks, and discusses the extent to which this has advanced or retarded colonial interests. ...

Small, D.

(

University of Canterbury. School of Educational Studies and Human Development

,

1996

)

Launched officially at the second congress of the Front de Liberation Nationale Kanak et Socialiste (FLNKS) in February 1985, the Ecoles Populaires Kanak (EPK) movement grew to include dozens of schools, hundreds of volunteer ...